أثرياء تركيا يميلون لشراء اليخوت الضخمة رفيعة المستوى
gulfcraftblog
Mar 4, 2014 1:29:34 AM
Gulf Craft enter the Turkish market and focus on larger super yachts
17 February 2014 - involved Gulf boating industry (Gulf Craft), one of the ten largest international companies specialized in the production of luxury yachts and boats made ​​of fiberglass, for the first time in the exhibition Eurasia Boat place at the fairgrounds, "CNN R" in Istanbul the period from February 14 to 23
Involved "Gulf Craft" through an exclusive distributor in Turkey Company "Sky Aating." The event will host more models "Gulf Craft" super yachts of famous and common, and the most important Majesty 56.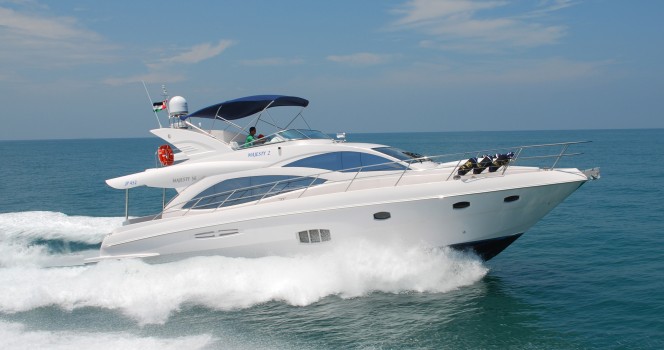 Said Erwin Bamps, director of operations at the company, "Gulf Craft": "industry enjoys boats and yachts in Turkey in the presence of a strong and prosperous great, thanks to its strategic position on the Black Sea and the Aegean Sea and the Mediterranean Sea. Characterized yacht market in Turkey with high sensitivity towards good value and quality high level, and strive to make the most of the opportunities and possibilities offered by the Turkish market for yachts through our local partner, "Aating Sky", which enjoys a long history and a great position in the market. "
It is believed that the Turkish capital of Istanbul is home to the largest number of wealthy people in the Middle East, where there are in the city alone 35,000 millionaire. The yacht their way to enjoy the magic of the optimal capital and its breathtaking captor overlooking the waterfront exquisite beauty.
According to Orhan Ihsanoglu agent "Gulf Craft" in the "Sky Aating", Turkey has seen a noticeable increase in the number of Turks wealthy, and a significant recovery in demand for yachts larger, especially the category of yachts ranging in length from 15 to 22 meters, and there is a clear tendency also for a class Super yachts exceeding 40 meters in length.
Ihsanoglu said: "meet the company Gulf Craft's growing demands for yachts larger, due to innovation and lasting investment increased in new models, as well as continuous focus on yachts Majesty luxury products and high efficiency and quality. And overwhelm a number of European brands on the market yachts in Turkey , is that customers prefer innovative products of high value that can be adjusted according to client requests. and we have an ambitious plan for the next three years to promote the existence of "Gulf Craft" in Istanbul and Eastern Mediterranean, the Bodrum Marina, and we aim to increase the market share of Gulf Craft 10% and upgrade them to be among the top three companies in Turkey. "