It was a moment of great pride for Gulf Craft, the Emirates leading luxury yacht and leisure boat manufacturer, as the first Majesty 140 named "C'est La Vie" which translates to "That's Life", has been delivered to her owner. Built exclusively for the owner's private use, C'est La Vie boasts customization that raise contemporary standards to a new level of sophistication.
She began her maiden voyage from Gulf Craft's UAQ factory after an impressive delivery ceremony that was attended by senior managers, designers and engineers, and team members who were involved in the building process of this unique superyacht. Also present at the ceremonial event were the crew of "C'est La Vie" along with the owner's representative.
She sailed to Port Rashid, Dubai, her first port of call. Speaking during the occasion Toufiq Mitri, the owner's representative stressed, "C'est La Vie not just reflects the vision of its owner, but also bears the testimony to the impeccable technologies, class-leading superyacht building techniques and above all the insatiable passion of every team member at Gulf Craft who have toiled hard to create a unique masterpiece."
"M/Y C'est La Vie's owner bought the superyacht much before its formal debut at the Dubai International Boat Show. He was impressed by the Majesty 140's remarkable exterior design, spacious interiors which were fully personalized to the finest details. added Gregory Yeakle, Chief Executive Officer at Gulf Craft.
The superyacht's floor-to-ceiling glass windows allow plenty of sunlight inside and give the guests stunning panoramic views of the seascape around. The superyacht features a spacious beach club deck and balconies on both sides of the main deck. The 55 sqm main saloon area is finished with the finest walnut crown cut wood and leather furniture that were crafted in-house.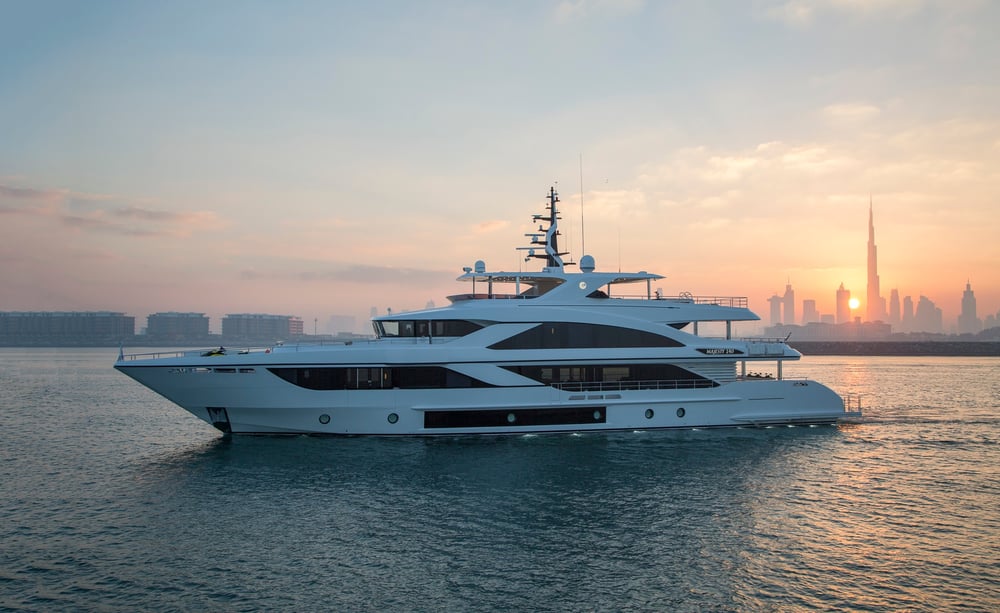 "When unique desires meet great vision, a distinct masterpiece is born. Our timeless heritage, unique skills and passion for going beyond the possible have inspired us to craft this impeccable oceangoing superyacht. I am sure M/Y C'est La Vie is going to delight its owner and treat his guests to memorable voyages for years to come." said Gregory Yeakle, Chief Executive Officer at Gulf Craft.
Built to the desires of her owner, M/Y C'est La Vie boasts an exclusive cigar lounge on the upper deck - a unique relaxation space that blends the ultra contemporary decor with classy ambiance to create an inspirational place to enjoy a cigar or gather with friends. The lounge features a pair of plush 4-seater leather sofas, a large flat screen television, and of course, a circular glass-topped coffee table for four and a stylish cigar lounge bar. Enlarged backlit dried tobacco leaves preserved in acrylic define the chic looks of the bar counter. The elegant décor shines through in this bonus room, with subtle LED lighting and rich wood veneer finish.
M/Y C'est La Vie features yet another choice of the owner - an eye-catching waterfall from the hard top that cascades down on the hot tub located on the sun deck. The one-of-a-kind sun deck also features two electric retractable roof systems that open to allow sunlight to follow in as if you were on a completely open deck.
M/Y C'est La Vie additionally has 6 staterooms that can accommodate up to 14 guests in the lower deck and the main deck. The rooms are finished in premium wood and have the finest Onyx Costa Blanca marble with crystal door handles. Special care has been taken to ensure the comfort of the crew with three rooms that can accommodate six members in the bow area (front area) and another 2 crew rooms in the aft area (back area). This brings the total number of crew onboard to 10.
The 360 GT M/Y C'est La Vie's main helm station is fitted with the latest in navigation and communications technology. It features a unique glass design that's a premiere for Gulf Craft with a distinctive negative inclined front glass making this superyacht stand out from its class. Furthermore, two side platforms on either side of the yacht assist the captain during docking. Powered by two MTU engines of 2,600 hp each, the yacht can reach a top speed of 20 knots, a cruise speed of 16 knots and a range of 3,300 nm at an economical speed of 12 knots.