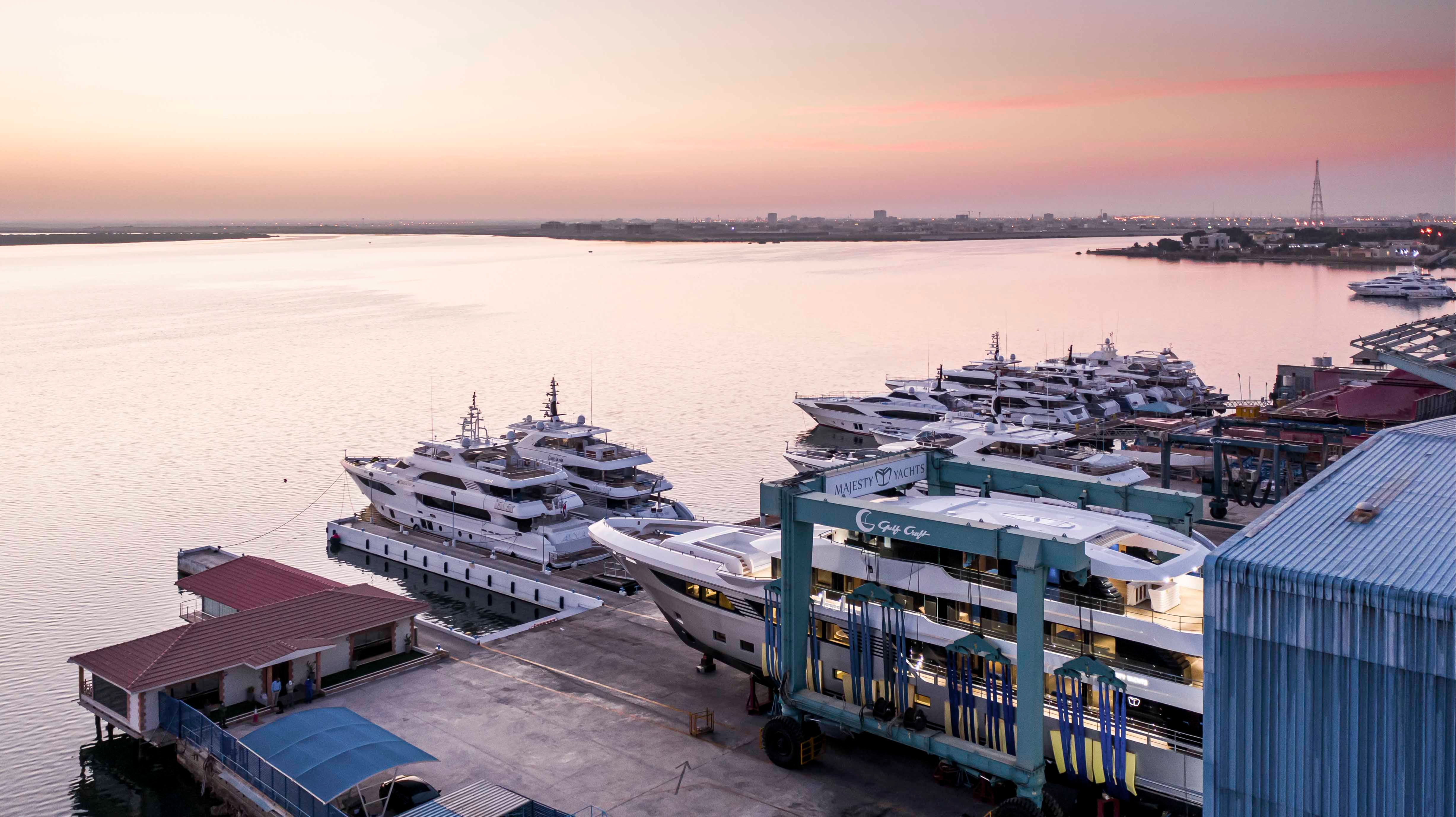 OUR STORY
THE COMPANY
Since the company's inception in 1982, Gulf Craft has grown to become one of the top seven shipyards in the world. From being a builder of small fishing boats in modest premises, a genuine passion for the sea led Gulf Craft to establish its credentials as a leader of innovation and technology in the yachting industry.
With five brands in the product portfolio, ranging from 31 to 175 feet, Gulf Craft manufacturers yachts and boats that appeal to a wide audience such as touring passenger's vessels, Silvercraft family day boats, Oryx Sport Cruisers, Nomad Explorer Yachts, and the flagship Majesty Yachts. Utilizing advanced technology, powerful engineering, timeless design, and world-class craftsmanship, Gulf Craft is today recognized as one of the world's premier yacht manufacturers.
Mission
Mission
Our aim is to regularly increase sustainability and efficiency by looking for opportunities to apply advanced technologoes. Continued process improvement and training are vital to ensure that our clients receive the best products and highest level of service.
Vision
Vision
Gulf Craft's vision is to be at the forefront of luxury yacht and pleasure boat manufacturing with a reputation for practicality, quality, and value.
Quality Assurance
Quality Assurance
Gulf Craft is fully dedicated to understanding and meeting the expectations of our clientele through continuous improvement and a process-based approach related to the marine industry. We value our clients and endeavor to provide them with consistent quality in every aspect of their experience with us.
CHAIRMAN, GULF CRAFT
A diplomatic veteran, Mohammed Alshaali has devoted his time and energy towards managing his luxury yacht and boat manufacturing business. Working in what was still a budding maritime environment, Alshaali drew upon his extensive work experience and academic skills to face the challenges in the market. In just a few years, Gulf Craft stood among the top 10 yacht manufacturers in the world, specializing in the production of superyachts.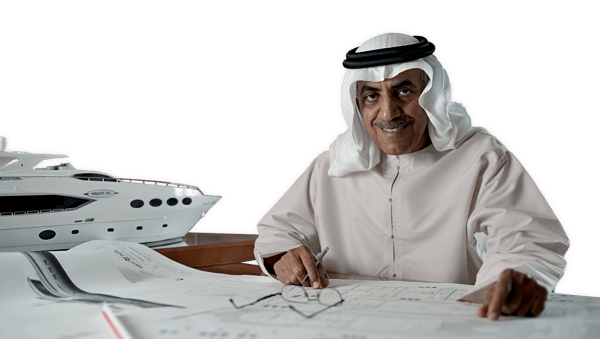 FOUR DECADES OF
GULF CRAFT
1982 - THE ESTABLISHMENT

With a modest 218,000 square foot facility in Ajman, UAE, Gulf Craft initially produced 14-foot runabouts for the local market. Sport Fishing 24 was Gulf Craft's first fishing boat.

1985 - Gulf Craft introduced two of its legendary boats- Hamoor 30 and Ambassador 24.

1989 - Gulf Craft introduced another model of its famous 31 feet series and called it the Dolphin 31.

1992 - The Adora 53, the first complex yacht to be built by Gulf Craft was launched. This craft remained as one of the most desirable and popular yacht models in the Middle East for years to come.

1996 - Majesty 86 launched.

2000 - The 100,000 square foot facility producing top-quality yachts, pleasure boats, and rapid transport vessels was launched in the Maldives.

2001 - THE EXPANSION

Gulf Craft's largest manufacturing facility opened in Umm Al Quwain in the Middle East, complete with a 150-ton travel lift and launching bay. Millenium 118, Gulf Craft's first superyacht over 30m, was launched.

2002 - Gulf Craft makes an impact as the top exhibitor at the first-ever Dubai International Boat Show.

2003 - Gulf Craft launched the brand and product range Majesty Yachts in an ambitious drive to develop the region's first full line-up of luxury yachts.

2006 - Gulf Craft introduced the Oryx product line to fill an existing gap between large yachts and small pleasure craft. Specializing in sports yachts and open cruisers, Gulf Craft's Oryx brand gained recognition among a younger target market.

2008 - OUR HERITAGE

Gulf Craft pays homage to its racing heritage and historic catamaran production with the launch of the new Silvercraft range. Born from 27 years of boat building experience, the Silvercraft range was established to represent Gulf Craft's wide and diverse range of smaller family and fishing boats.

2011 - Gulf Craft launched the Gulf 95 Exp at the Dubai International Boat Show – presented a new approach to explorer yacht design that maximizes onboard living space and comfort.

2012 - Gulf Craft launched its largest superyacht ever built – the Majesty 135 – further solidifying the company's position as a major player in the prestigious global superyacht market.

2014 - LEADING FROM THE FRONT

Gulf Craft has clinched a top 10 ranking among the world superyacht-building shipyards, according to the Boat International Global Order book report. Majesty 105 was announced as a finalist of The World Superyacht Awards 2014.

2015 - Gulf Craft launched the flagship Majesty 155, showing customer confidence in the yard's products. Catering to an ever-growing demand for long-range, fuel-efficient yachts, Gulf Craft also introduced the Nomad Yachts brand.

2016 - During a private event at the Singapore Yacht Show, Gulf Craft received the 2016 'Best Asian Motor Yacht Builder' award, underlining the Emirates-based manufacturer's global recognition for its commitment to quality and innovation.

Gulf Craft was recognized for its unique ability to deliver both quality and value to its clientele by one of the most coveted recognitions in the international superyacht manufacturing industry, the World Superyacht Awards. The Majesty 122 (M/Y Nashwan) competed against 66 internationally produced superyachts & won the 'Quality and Value Award'.

2017 - Dubai International Boat Show 2017 marked a great milestone for Gulf Craft as the company celebrated its 35 year anniversary. Gulf Craft launched numerous models at the show including the Majesty 100, the first-of-a-kind Silvercraft 48 B, and the Silvercraft 36 HT Cabin.

Named 'Best Asian Built Yacht' at the 2017 edition of the Asia Boating Awards, the Majesty 155 is Gulf Craft's flagship superyacht and the largest semi-production superyacht built in the Emirates. The model was recognized for its ability to combine unparalleled seagoing performance with timeless luxury.

2018 - Gulf Craft ranked 7th place in the global ranking of international shipyards published by The Superyacht Group.

In January 2018, Gulf Craft's Majesty 100 won 'Best Asian-Built Motor yacht over 30m' at the 2018 Christofle Yacht Style Awards held in Thailand.

In March 2018, Gulf Craft launched the Majesty 140, Majesty 62, Touring 48 at the Dubai International Boat Show

In Sept 2018, Gulf Craft's Majesty 140 won the "Best Yacht Layout" award at the World Yacht Trophies held in Cannes, France.

2019 - GULF CRAFT TODAY!

Majesty 140 designed in collaboration with the Christiano Gatto Design wins "Best Interior Design" & "Best Yacht Layout" (World Yachts Trophies), "Best In Show" (FLIBS 2019). Majesty 62 won the "Best Asia-Built Motor Yacht (15- 24m)" award at the Christofle Yacht Style Awards.

In March 2019, Gulf Craft launched the Next Generation of Oryx Sport Cruisers, the new Oryx 379 designed by the upcoming Emirati designer, Hussein M. AlShaali.

Gulf Craft launched three brand new Nomad Yachts called the SUV (Sports Utility Vessel) Collection (95 SUV, 75 SUV, and 65 SUV) all featuring semi-displacement hybrid hulls designed to withstand any sea condition and are able to travel long distances at DIBS 2019.

Majesty Yachts entered the U.S. market for the first time with the debut of the Majesty 140 & Majesty 100 at the FLIBS 2019 as part of the global expansion strategy.

2021: Amidst the global pandemic, Gulf Craft continued its operations, launched the Majesty 120, and delivered two Majesty 100.

Launched the Majesty 175 "World's Largest production composite Yacht".