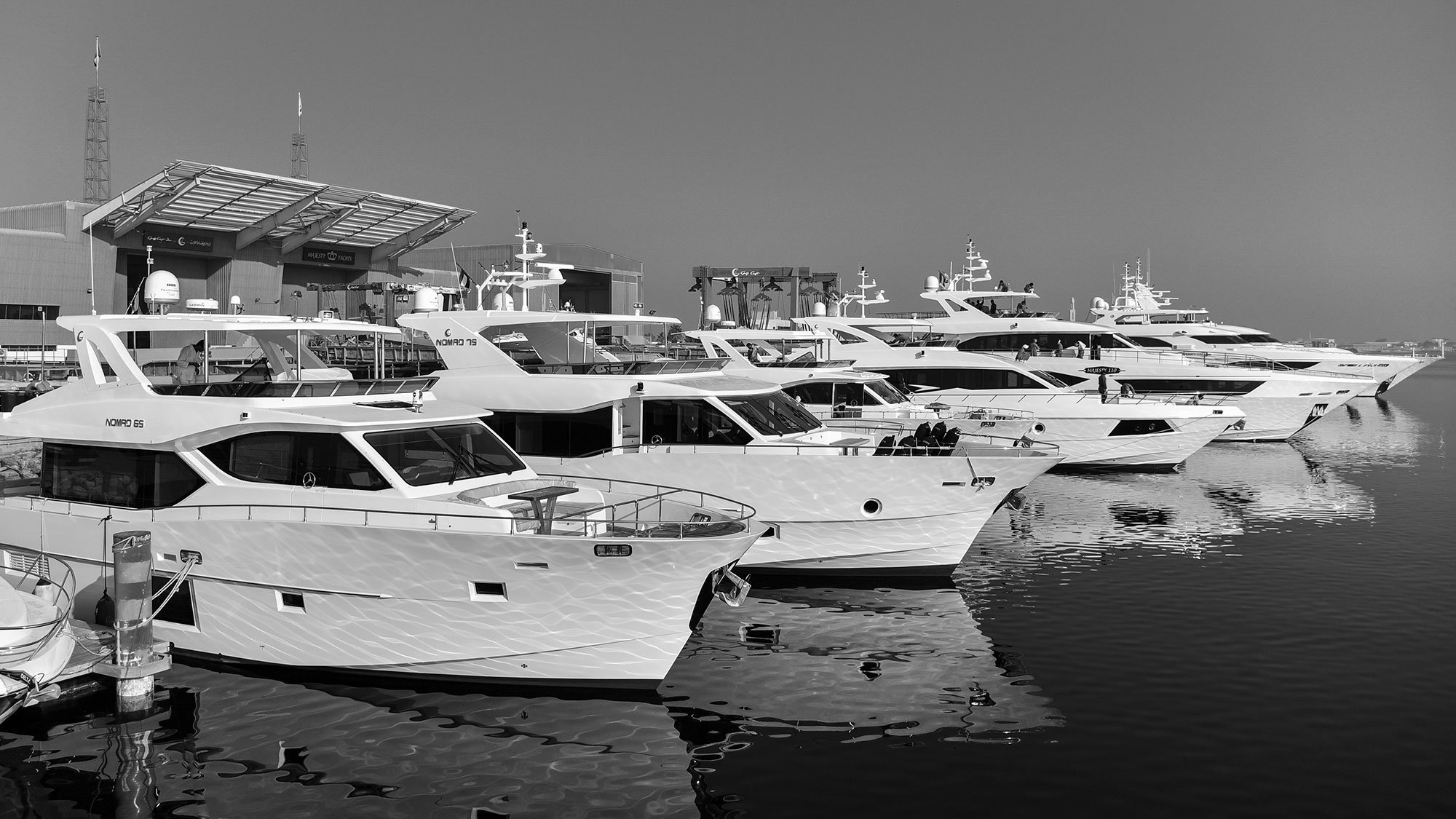 Careers
At Gulf Craft, we believe in transforming experiences into real-life practices. Whether you are applying for an admin position or a technical position, Gulf Craft is at the core of any professional industry. Our work environment is second-to-none. Currently employing over 1000 employees from different nationalities, we believe that learning and development never stops. Gulf Craft is one of the few places that enable a person to share, innovate, execute his /her ideas, and have them cruise the world.
Current Job Openings
Document Controller
Ensuring the Efficient Digitization, Aggregation, and Segregation of Documentation and Drawings to the Network Folder Structure for PDE Department.
Uploading of all the relevant documentation, to Gulf Craft's ERP Database.
Developing and Maintaining Status Reports of Drawings and Technical Documentation on a Daily Basis.
Filing and Maintaining Physical Records of Documentation and Drawings as per relevant categories.
Preparing, Updating and Maintaining Document/Drawing Transmittals and ensuring compliance and approval from the relevant personnel.
Creating Documentation Templates for Future Use.
Ensuring the availability of all relevant documentation within Transmittals and doing the necessary Proof-Reading to ensure proper procedures and compliances are met.
Managing the flow of Inter and Intra Departmental Documentation, Retrieving and dissemination of Documents/Drawings to any relevant personnel, as approved by the PDE Department Manager.
Attending and Preparing 'Minutes of Meeting' for all applicable meetings and distributing the same to the relevant attendees, for review.
Preparing all ad-hoc reports, as required by the PDE Department Manager and other designated Personnel.
Requirements
Minimum 4 years experience, preferably in UAE, with Engineering Companies.
Any Bachelor's Degree, preferably in Engineering/Science
Required Skills
Knowledge of Technical Documentation Workflows
Knowledge of Electronic Document Management Systems
Strong Experience in MS Excel, PowerPoint, and Word.
Proficient in Business Communication, Editing, and Typing, in English
Data Organization Skills and attention to detail.
Interior Designer
Manage work within deadlines and prepare team reports. Will be reporting to the Manager.
Participate in special projects and perform other duties.
Provide assistance in project design and development activities based on customer requirements (Work orders, MOMs, etc)
Develop design documentation and other project-related documentation as needed.
Attend project meetings to discuss any issues and new design ideas.
Analyze design issues and suggest corrective actions.
Oversee change order management and document filing activities.
Work with Manager in developing a project plan, budget and schedule.
Prepare design layouts and sketches according to company design standards.
Stay abreast with the latest developments in design technologies and techniques.
Address design-related queries and concerns in a timely manner.
Provide assistance and conduct training to team members when required.
Work with the design team in prioritizing, planning, and executing several projects efficiently.
Propose effective design solutions to meet project goals.
Review and recommend improvements to existing designs.
Follow company policies and design standards.
Develop cost reduction initiatives while maintaining quality and productivity.
Provide assistance in project design and development activities based on customer requirements (Work orders, MOMS, etc.)
Work with the existing structural and natural environments into spaces that are functional, efficient, and beautiful.
Mapping out space to determine furniture layout for interior & Exterior areas of the Yacht according to design standards.
Develop mood boards by creating color palettes, selecting appropriate furniture, upholstery, fabrics, and accessorizing the space, light fixtures, and flooring.
Basic understanding of marine standards and regulations, classification rules and Flag, etc.
Develop design documentation, technical specifications, and other project-related documentation as needed.
Stay abreast with the latest changing trends in design, technologies, and techniques.
Address design-related queries and concerns in a timely manner to other departments. (Sales, Procurement & Planning & Production).
Carrying out research and feasibility study on competitor products, their specifications, features, and layouts.
Choosing the most appropriate materials for the design and budget.
Marketing And Public Relations Manager
The Marketing and PR manager is responsible for developing PR and marketing plans that communicate key messages, promotes product and services, manages the reputation of the Organization and expectation of key stakeholders. The role includes creation and delivery of all marketing material, product development, public relations using all forms of media and communications, building and maintaining key stakeholder and patron relationships, responsible for maintaining the Organization's websites and sponsorship activity.
Job Description
Proactively identify story angles and platforms to drive coverage for the brand.

Coordinating media relations initiatives and outreach.

Developing PR initiatives and strategies to deliver overall objectives, ensuring execution is delivered on time and within budget.

Partnering with the Marketing Lead to brief, develop and oversee excellent delivery of any brand marketing events – including concept, logistics, 3rd party suppliers, and managing all liaison with internal departments.

Managing the PR Budget.

Conduct in-depth research to identify new market opportunities and consumer preferences to support campaign creations.

Set specific marketing goals that align with the overall direction and business goals.

Develop and maintain digital campaigns to increase web traffic.

Track and measure marketing outcomes including marketing activities, response, leads, sales, retention, and ROI.

Forecast market trends.

Research the market to identify new opportunities.

Generate innovative ideas to promote our brand and our products.

Develop business cases to support new marketing strategies, budget requests, projects, and marketing plans.

Use customer feedback to ensure client satisfaction.

Ensure brand alignment to increase brand awareness and equity.
BA/BS degree required.

5+ years of Marketing & PR experience in a luxury/ retail company.

Experience with luxury media channels (print, digital).

Experience in Digital and Social Media.

Excellent communication skills.

Excellent interpersonal skills in dealing with stakeholders and industry peers.

Creativity, team spirit & sense of initiative.

Candidate MUST be fluent in both written and spoken English and Arabic.
Sales Executive
Key Responsibilities
Meet and exceed sales targets

Successfully create a business from new and existing customer accounts

Manage complex negotiations with senior-level executives

Build rapport and establish long term relationships with customers



Required skills
2-3 years Sales experience

Demonstrable track record of over-achieving quota

Strong written and verbal communication skills

Fluent in English & Arabic is a must

Work Location: Dubai
After Sales Service Executive
Key Responsibilities
Establish and retain contact with clients so that they can easily obtain customer feedback concerning the quality of their company's products and services

Assist clients in resolving issues concerning products they purchased, or services rendered to them

Monitor details of contracts to inform clients of the pending expiration dates and assist them in processing contract renewals

Responsible for coming up with the necessary strategies for the department in ensuring clients are satisfied and departmental goals are realized

Supervise all post-sales services offered to clients to ensure the firm's promise of good customer service is actually enjoyed by customers



Required skills
A successful candidate must possess a bachelor's degree in advertising, marketing, business administration, or a similar field and at least 3 years of experience in after-sales operations.

Strong interpersonal, analytical, organization, leadership, and problem-solving skills;

Excellent computer skills and proficiency in MS Office applications

Effective oral and written communication skills ( English and Arabic)

Goal-oriented and highly organized

Must be able to investigate and analyze problems and make sound judgments and solve problems in a timely fashion.

Work Location: Dubai
Cost Controller & Accountant
Key Responsibilities

Responsible to monitor project total expenditure and ensure all expenditures are captured and properly recorded.

Monitor project activity scheduling & progress.

Ensure effective project implementation and utilize productive reports from the creation to monitoring the status of all purchases, invoicing, and delivery up to the closure of the project.

Coordinate and work with the marketing and production teams to resolve project issues to ensure the delivery/completion of the project work.

Perform project costing-related reporting for the Finance managements review on a monthly basis to ensure that expenditures are kept within the project budget.

Provide cost control and planning advice to the Finance management as and when required.



Required skills

Bachelors in Accounting or Finance.

Min 5 years relevant and similar capacity in project estimating and cost control.

Technically strong in project cost planning, scheduling, and reporting.

Demonstrate strong interpersonal, communication, and presentation skills

Strong analytical and problem-solving skills and meticulous

Possess good project background and technical writing ability and skills.

Mature, proactive, resourceful, and hands-on with good initiative.

Independent worker who is able to work well with minimal supervision.

Fast worker with the ability to work well under stress.

Work Location: Dubai
Digital Social Media Executive
Main Responsibilities
Create and deliver the overall social media content strategy.

Work closely with the various teams across GC, as well as events and marketing, and ensure that the brand is being presented on social media to its full potential.

Ensure that the content is current, insightful, empowering, and respectful.

Produce local social media content with a heavy focus on video.

Create video briefs and produce video content across various platforms.

Knowledge of social media scheduling systems.

Ability to create and execute social media campaigns across all platforms.

Help source and manage freelance media specialists for key digital projects.

Respect the editorial integrity and international guidelines of the brand when producing online content.

Liaise with the commercial teams to create social posts around sponsored campaigns.

Have a deep understanding of analytics and data to create reports.
Requirements
The candidate must be confident and out-going, with experience in managing social media platforms.

The candidate must have strong copy-editing skills and should have a minimum of three years of experience in a similar role.

Video production/editing experience is a must.

Knowledge of Hubspot

Must be able to present digital article ideas and write online when needed.

Knowledge of multiple languages (English & Arabic) is a must
Junior Graphic Designer
Provide professional graphic design support across the Design team

Work as part of an integrated team of designers

Participate in the full lifecycle of projects, from design brief to production

Think creatively and develop new design concepts, graphics, and layouts

Think strategically to ensure cohesive messaging and visual identity

Establish, organize, and maintain graphic/document templates and resource libraries

Brief and liaise with printers
CNC Head
Implement new projects, plans, and ideas under the guidance and agreement of the PDE Manager and Technical manager.

To communicate effectively with your line manager and colleagues and involve your line manager in the decision-making process at every stage when developing new components.

Collaborate with and review designs with the section head prior to 'cutting metal or wood' to discuss your approach, ensuring that any potential problems are eliminated before you begin writing new programs.

Managing the CNC team at the programming level coaching, educating to further improve more their capabilities and enhance their skills.

Responsible for distribution of job orders for CNC programmers and operators

Prepare and maintain parts lists per project, ensure to keep them up to date at all times.

Plan and schedule the works for projects in coordination with all the production managers, feeder factory managers, and project coordinators.

Keep all the project stakeholders with periodic updates on the job progress per projects

Programming, setting, and operation of CNC machine tools to achieve maximum efficiency and the highest quality standards for the manufacture of precision engineered components.


Ensuring that appropriate processes and procedures are adhered to throughout manufacture to deliver components to the highest quality standards.

Working to strict timescales and escalating to the line Manager when experiencing issues that would affect the timely delivery of tasks assigned.

After the prototype work for new projects, review and improve the parts lists and CNC program by project closing

Monitor the workflow and production processes to identify opportunities to reduce cost and improve efficiency.

Responsible for a complex or difficult design like 3Dwhen it comes to a CNC


Creating a 3d design for carving machining

Maintaining the records & files of all CNC's activities and prepare daily reports.

Work with line manager to implement the company's policies and goals;
Requirements
Bachelor's Degree in yacht design
Minimum 6 years' experience
Software Skills
Auto Cad
CAD-CAM Cni information
Task Tech 100
CAIO
CCI
Graphic Suite
Personal Bravo 1.4
Art Cam 6.0.7.0.8.0.9
CADMATIC.4.0
Personal Skills and Abilities
Problem solving
Ability to work with teams of different disciplines
Should be adaptable to different work atmospheres.
Good communication skills in English both writing and reading.
Ability to handle high-pressure jobs.
Good presentation skills.
Junior Mechanical Engineer
Supervision and participating in discipline-specific activities carried out by the Mechanical team.
Studying and understanding the scope of work and specification of assigned projects.
Design of all major systems to fulfill the technical requirements and which comply with regulatory bodies
Preparing 3D models to prepare detailed construction and fabrication drawings.
Acting as the ultimate checker for all drawings, BOMs, sketches produced by draftsman to ensure compliance with the project requirements, consistency, and quality of work.
Working in close conjunction with a disciple engineer to ensure speedy resolution of any problems that might arise and that the project schedule is adhered to.
Undertaking interdisciplinary coordination to ensure integration of project engineering activities.
Resolving production queries, within the level of capability, which might arise during the construction phase to ensure work being carried conforms to drawings.
Undertaking site surveys and inspections as requested.
Undertaking other support tasks as assigned and deemed reasonable.
Recommending and following up all quality assurance and safety factors/requirements applicable to the engineering design.
Ensuring all works are performed with no errors and as per the Drafting standards, Work Orders, guidelines, Company's procedures, etc. as advised by senior team members.
Requirements
Bachelor's Degree Mechanical
2-4 years experience
Software Skills
Auto Cad
Microsoft Word
MS Excel
MS PowerPoint
Solid works will be add
Personal Skills and Abilities
Problem-solving
Ability to work with teams of different disciplines
Should be adaptable to different work atmospheres.
Good communication skills in English both writing and reading.
Ability to handle high-pressure jobs.
Good presentation skills.
FOR JOB APPLICATIONS:



Send your CV or Resume to recruitment@gulfcraftinc.com and mention the job title in the subject line for the position you are applying for.