Male, Maldives- Maldives Transport and Contracting Company (MTCC) has signed as a priority partner of Gulf Craft. The partnership agreement was signed by Gulf Craft CEO Erwin Bamps and MTCC CEO Ibrahim Ziyath.
The agreement signed by MTCC and Gulf Craft will enable the company to install Suzuki outboard engines on boats built by Gulf Craft Maldives.
Speaking to the press after signing the agreement, the CEO of MTCC said that the company will benefit immensely from the agreement. Ziyath described the agreement with Gulf Craft as a huge milestone achievement for MTCC.
CEO of Gulf Craft, Erwin Bamps highlighted the success of Gulf Craft in the past 15 years in Maldives. He expressed interest to increase their investments in the country. Erwin said that Gulf Craft focuses on building boats that are safe and durable, and working with reliable partners are as important as creating best products in the market.
Erwin Bamps and Ibrahim Ziyath both expressed hope that this is a good beginning of a growing business relationship, and this will benefit both companies.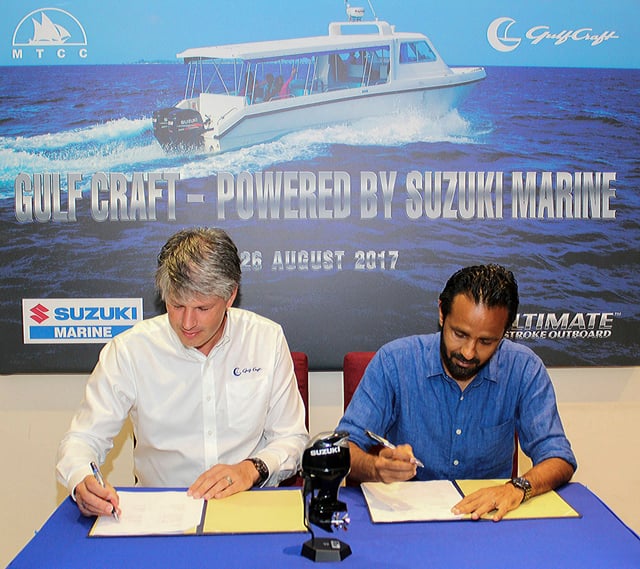 Gulf Craft CEO Erwin Bamps signs agreement with Ibrahim Ziyath, CEO of the Maldives Transport and Contracting Company, (MTCC)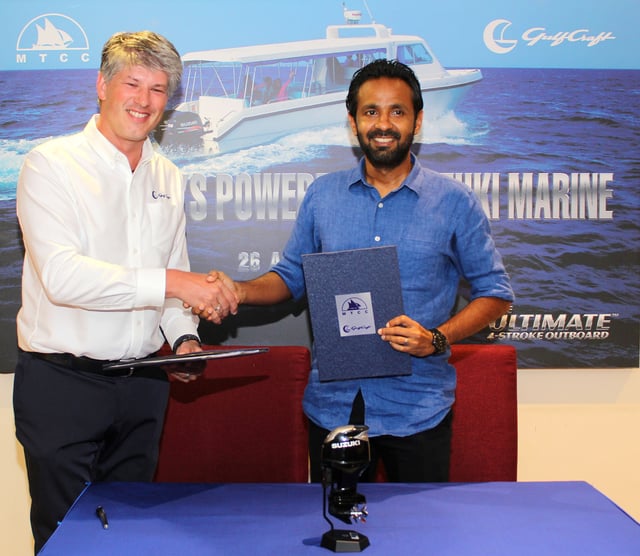 About MTCC
Maldives Transport and Contracting Company, (MTCC) was incorporated in 1980, as the first public company in the Maldives. The company was established with the objective to contribute towards the development of infrastructure and transport service in the country. It offers a diverse range of services such as construction and project management services, logistical operations, modern transport services, engineering and docking service and a plethora of reputed product as, Yanmar and Suzuki marine engines, Hamilton propulsion system, Castrol lubricants, Sigma protective coatings, Caterpillar heavy machinery and Scott Bader boat building composite. (Source: MTCC)