Leading International Superyacht Builder Will Appear at First Edition of Prestige Event to Connect with European and International Customers
LONDON, April 8 2015: Gulf Craft, one of the world's leading superyacht shipyards, will participate in the first-ever London Yacht, Jet & Prestige Car Show, bringing its European and international customers up-to-date with the latest innovations in its range of luxury yachts, sports cruisers and leisure craft.
The globally acclaimed UAE manufacturer will have a presence at the event, which runs from 8-10 April and is dedicated to the prestige market. The London Yacht, Jet & Prestige Car Show is designed to attract London's wealthiest international residents and visitors in perfect timing for the summer season, ahead of planned yacht charters and purchases.
With London home to more millionaires and billionaires than any other city on earth, the UK capital is one of the most important global hubs for the luxury goods market, attracting wealthy individuals from around the world.
"As a major financial hub and the millionaire capital of the world, London is a natural choice for an event dedicated to the luxury and prestige market and we are delighted to support the establishment of what will fast become a fixture on the international event calendar," said Erwin Bamps, CEO of Gulf Craft. "The London Yacht, Jet & Prestige Car Show offers an ideal platform for Gulf Craft to reconnect with our international customers ahead of the European season, update them on our latest offerings, and brief them on our innovative approach to yachting."
Gulf Craft's growing global reputation is based on its capacity to build innovative, stylish craft that offer both elegance and sturdiness, while aiming to fulfill customers' needs, including providing a semi-custom build capability.
To support its commitment to innovation in design, Gulf Craft is investing USD 100 million over the next five years in developing a world-class facility for the manufacturing of mega and superyachts at Dubai Maritime City.
The region's leading yacht and boat builder will also be sharing information with visitors at the London Yacht, Jet & Prestige Car Show about its Majesty Yachts line of luxury fly-bridge motor yachts, including the latest addition to the range, the Majesty 122, which has been wowing crowds in a hugely successful tour of GCC markets this year.
Visitors to the show will also get the opportunity to learn more about Gulf Craft's brand new line of yachts designed for serious boating enthusiasts who are looking to take their passion on to the high seas – the Nomad Yachts range.
Nomad Yachts are engineered to offer premium comfort, safety, and oceangoing capability, and are both robust and chic in design, with an airy loft style apartment feel. With a range of 1,600 nm, the innovative Nomad Yacht range is created for those boaters who enjoy long-range exploration, transforming yachting into a memorable experience as well as a pleasurable journey
Visitors will also have an opportunity to get the latest briefing on the much-anticipated Majesty 155, Gulf Craft's largest superyacht that is scheduled to be launched in the second quarter of this year, and a powerful addition to the Majesty Yachts range, which combine style and elegance with sophisticated technology to create the epitome of truly luxurious cruising. At 155 feet and 47 meters, the Majesty 155 will be the largest superyacht to be built in the Middle East.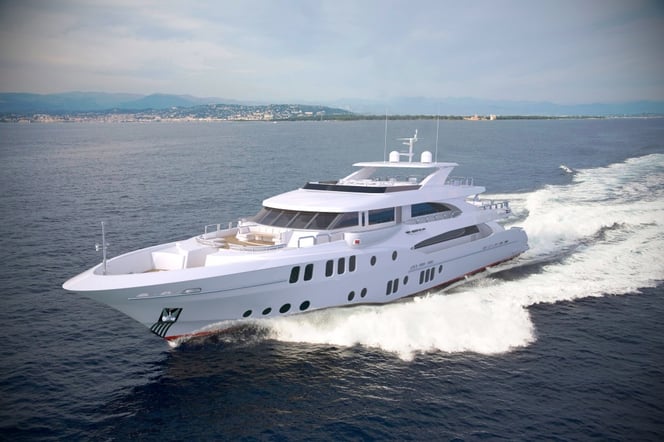 Attendees of the London Yacht, Jet & Prestige show can visit Gulf Craft at stand number D09. The show is being held at the Old Billingsgate and St Katherine Docks, London EC3 and opens from mid-day until 9pm.