Luxury brands such Harvey Nichols, Stella McCartney, Michael Kors, Saint Laurent Paris just to name a few, were brought recently on board our Majesty 105 for a photo shoot at the Majesty Yachts shipyard in Umm Al Quwain for the August 2014 issue of the Haya Magazine, a weekly high-end fashion and beauty magazine.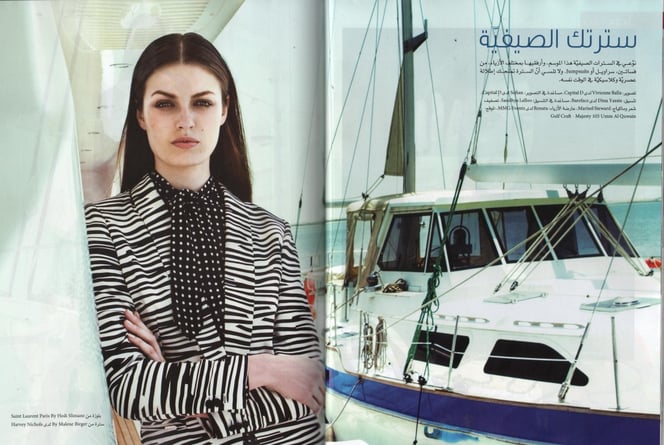 Check out more of the photo shoot on the Majesty 105:
[embedPDF source="http://blog.gulfcraftinc.com/wp-content/uploads/2014/08/Article-Haya-magazine-August-2014-Photoshoot-on-board-Majesty-105.pdf" width="100%" height="600"]
About Haya Magazine
HAYA magazine is a weekly high-end fashion and beauty magazine with a focus on women, published in cooperation with leading Arab broadcaster MBC Group and distributed in the Middle East, and North Africa. It brings inspirational interviews, in-depth profiles and biographies of Arab and international stars, as well as behind-the-scenes information about the latest hit series and programs that are the talk of the town. It also explores current social and cultural trends through dedicated reports that invite readers to transcend regional boundaries.
The magazine also boasts an extensive glamour section the ultimate fashion and beauty guide for female readers in the region.