Sochi, Russia– Gulf Craft, through its representative, Admiral Yachts, participated at the Imeretinskiy Boat Show held at the Imeretinskiy Yacht Marina, Ulitsa Golubaya, Imeretinskaya Valley, Sochi last September 30- October 1.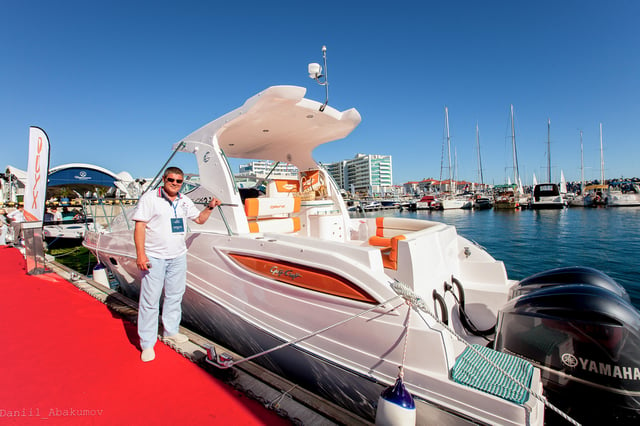 Oryx 36 on display at the show with Alexander Muravitsky from Admiral Yachts, representative of Gulf Craft
On display at the event were the Oryx 36 and Silvercraft 36 HT. The elegant sport cruiser, Oryx 36, is both powerful yet extremely comfortable. Her main deck design allows for an L shaped seating area next to the pilot and in the cockpit as well easy access to the swim deck. Sunbeds can also be found on the foredeck for the ultimate view of the seascape. Below deck there is an owner's cabin, guest accommodation with additional seating, a separate saloon and galley.
The hard top equipped Silvercraft 36 HT has quickly obtained an enthusiastic fan base after its recent market introduction. Built for fishing, coastal or in open sea, it's robust while easy to handle. Keeping its owner out of the sun and protected from the rain, it is a stylish latest generation fishing boat out of the Gulf Craft stable. Growing in popularity weekly, it's taking more and more production floor space. The Silvercraft 36 HT is considered to be the ultimate boat to have.
CHECK OUT these photos taken at the show: