Gulf Craft was delighted to deliver a Majesty 135 to a long-standing repeat customer, who named his new yacht 'Lulwa'.
In 2015 he had taken delivery of one of Gulf Craft's long-range motor yachts from our popular Nomad Yachts series. The 41-meter superyacht model he chose from our Majesty Yachts line-up now is not only a much larger tri-deck vessel, but also has the premium brand's timeless elegance clearly embedded in her DNA.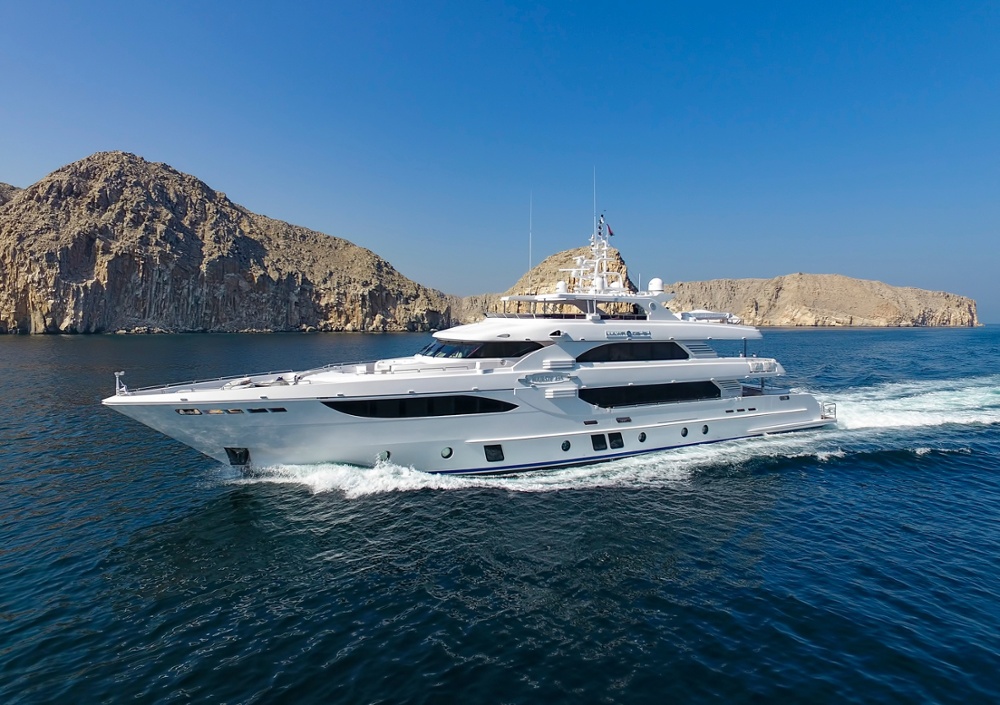 Sleek, graceful and technologically advanced, she boasts standout features throughout and offers a volume not seen in any other yacht of her size. Exuding elegance and grace, she is a shining example of the innovation, advanced engineering, attention to detail, and reliability that Majesty Yachts are known for. She's equipped with state-of-the-art 'smart home' technology : features like lighting, the entertainment system, dining and cockpit tables can be controlled remotely using a purpose-built iPhone and iPad app.
Epitomizing a luxury lifestyle, the Majesty 135's spacious sundeck features a curved wet bar, jacuzzi and a Williams Dieseljet 505 tender. Jet skis can be launched from the bow area crane, while an aft-located 'beach club'-style deck at water level is the perfect place for friends and family to relax in. Other facilities include a hot tub in the master en suite, a cold storage room and the main saloon-side balcony.
M/Y Lulwa is powered by twin MTU 2,600 hp engines and can reach a top speed of 20 knots and a cruising speed of 16 knots. The 350-gross tonnage superyacht has a range of 3,300 nautical miles when operated at an economical speed of 12 knots. Her technical specs include zero-speed stabilization, fuel purification, and an integrated control and monitoring system.
We are committed to going above and beyond existing expectations of customer service – that, and our reliability and durability are our main drivers to build customer loyalty. As Gulf Craft evolves and confidently enters the megayacht market, we grow with our long-standing customers and cater to their changing wishes and needs.
A view to behold - watch this short video of the Majesty 135 :
Amazing shots of the Majesty 135 M/Y Lulwa in Musandam, Oman: