Superyacht Digest magazine, a monthly publication focused on the superyacht industry & luxury lifestyle, featured Gulf Craft and one of their latest superyacht models, the Majesty 110 in their May 2016 issue.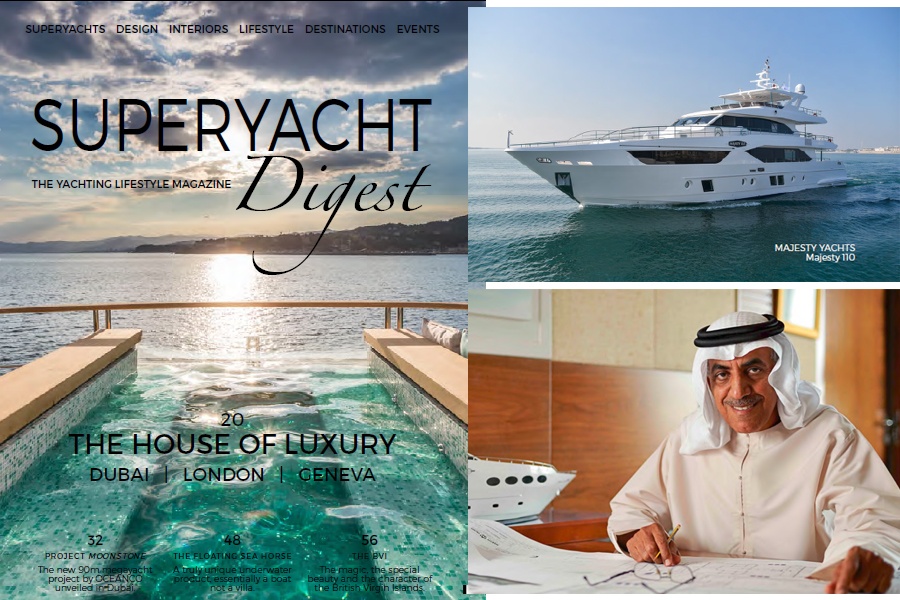 Here's an excerpt from the article:
Renowned name in the marine industry, with a strong passion for sailing inherited from the father, Chairman and founder of Gulf Craft, he is the man who in 1982 launched a humble UAE-based yacht and boat manufacturer, in a period of time when yachting was a field with less good prospects compared to other sectors. Despite this uncertain scenario, Alshaali decided to face the challenge and started the business in the marine industry.
Gulf Craft's leading position and global reputation are built around three key-pillars, the same that built the shipyard's DNA since the very beginning three decades ago: love for the sea, strong passion for building and the firm belief that the success of the UAE should be based around productive industry.
Today Gulf Craft, among the world's top shipbuilders, is a globally respected shipyard with a presence in more than 40 countries worldwide. Thanks to the continued confidence and loyalty of customers and business partners, Gulf Craft holds a strong legacy and solid track record of redefining sea travel for the world's boat enthusiasts.
Gulf Craft continues to invest heavily in research and development as part of its unremitting efforts to inspire people to explore the wondrous possibilities of on-water living. And this year at the Dubai International Boat Show, with the largest fleet ever showcased by the shipyard in a single event, Gulf Craft impressed crowds with a display of 14 bespoke yachts and boats, that elegantly surrounded the global debut of the youngest tri-deck Majesty 110, the opulent Majesty 90 and the oceangoing Nomad 55.
READ the full article, Issue No. 1, pp 32-35, Superyacht Digest here.
---
LIKE us on Facebook | FOLLOW us on Twitter | FOLLOW us on Instagram
Save
Save
Save
Save