Dubai, 1 March 2017 – Gulf Craft's all-new superyacht, the Majesty 100, is proving to be a head turner at the Dubai International Boat Show, where the award-winning builder's latest masterpiece made its global debut.
Characterized by her unrivalled use of onboard space and innovative design, the Majesty 100 offers owners a seamless luxury cruising experience. From a unique sky lounge fly-bridge – Gulf Craft's first – and a powerful but efficient propulsion system, to lavish interiors and copious lounging areas, the superyacht's unreserved magnificence can be seen throughout her generous 32-meter length.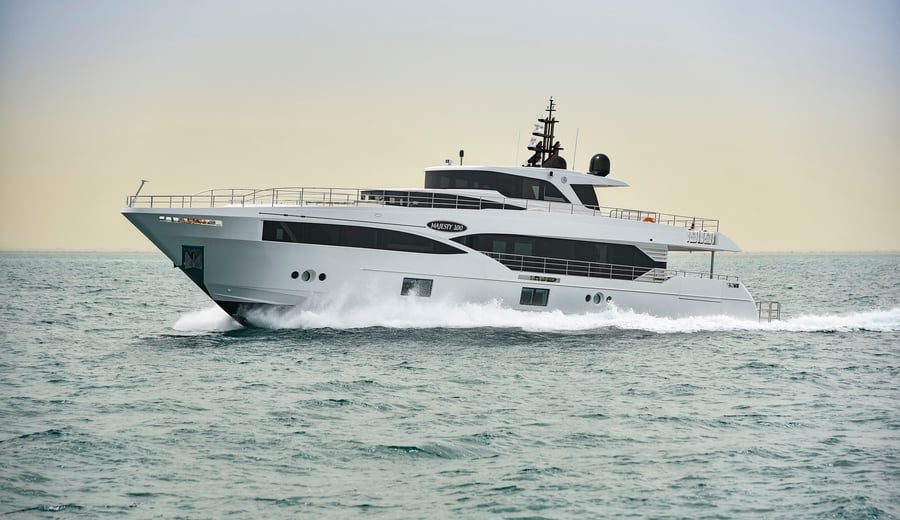 The all-new Majesty 100 superyacht
Gulf Craft's latest reveal is an indication of a recovering demand for mid-range yachts, which the company's CEO, Erwin Bamps, attributes to upcoming waterfront developments and a growing appetite for luxury cruising among the region's affluent millennials.
"This is a very exciting time for us as yacht builders," said Bamps. "From the recently announced Dubai Harbour project and the Dubai Canal, to the Deira Islands and the Port Rashid Marina, aspiring yacht owners will soon be spoiled for choice when it comes to how and where they want to use their craft. Combined, these ambitious waterfront projects will pave the way to a thriving yachting community that will largely be comprised of younger boaters.
"Because of her practical, yet powerful, attributes in both engineering and design, the Majesty 100 is perfect for entry-level superyacht owners, whether they are looking for a waterfront retreat or an oceangoing adventure."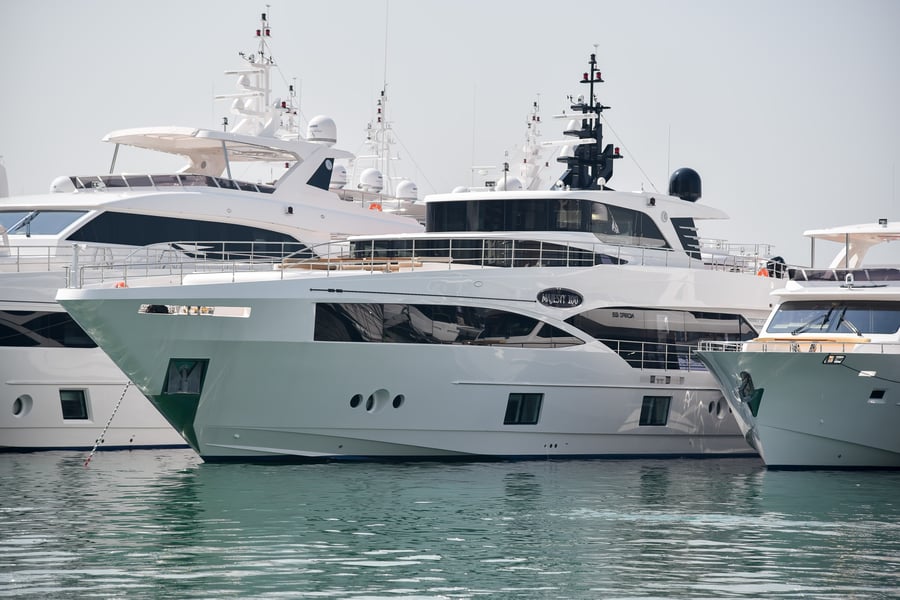 Global debut of the Majesty 100 at the 25th Dubai International Boat Show
The Majesty 100 is the first in Gulf Craft's collection to have a partially enclosed fly-bridge, allowing guests sitting within its spacious lounge area to enjoy breathtaking views of the vast seascape – as though they are seated in a traditional fly-bridge, but with the added luxury and comfort offered by indoor living. Those looking for some fresh air can simply slide down the glass panels and open the folding doors fully, converting the area into an outdoor lounging space.
With stunning exterior, interior, and naval architecture and design courtesy Gulf Craft's very own in-house Design Studio, the complete layout of the Majesty 100 is based on the principles of maximizing space and stretching the outdoor experience through to the interior. The raised wheelhouse is characterized by its 270-degree vertical glass panels, yet another first by Gulf Craft that offers the captain of the Majesty 100 unobstructed views of the surrounding seascapes
Moving to the main deck, sweeping floor-to-ceiling windows allow natural light to flow abundantly through the cabin, and two hydraulic extendable balconies fixed on both ends of the back-seating area offer passengers an effortless al-fresco experience while still having quick and seamless access to the craft's main indoor living and entertainment areas
Premium marble countertops and white oak flooring delicately adorn the superyacht's main cabin and 5 en suite staterooms, which can accommodate up to 12 guests for overseas cruising. Those looking to entertain or simply take in the vast seascapes while listening to their favorite tunes can enjoy the crisp beats reverberating from the superyacht's built-in Bang & Olufsen speakers.
Powered by two 1,900 hp MAN engines, the Majesty 100 can travel at a maximum nautical speed of 23 knots. The superyacht's superior engineering and hull design makes her very fuel-efficient, enabling even longer distance travel. The Majesty 100 deploys a V-drive propulsion system, and therefore houses the engines within the rear side of the craft, which allows for increased onboard space and comfort.
Guests can visit Gulf Craft at stand MD-30 at the Dubai International Boat Show, which takes place until 4 March at the Dubai International Marine Club, Mina Seyahi.