The September-October 2016 issue of Asia-Pacific Boating, premiere yachting magazine, features the Majesty 110 in the article, "Continuing to Amaze', a well-fitting title for this tri-deck superyacht after receiving overwhelming response from the recently concluded European boat shows- Cannes Yachting Festival and Monaco Yacht Show.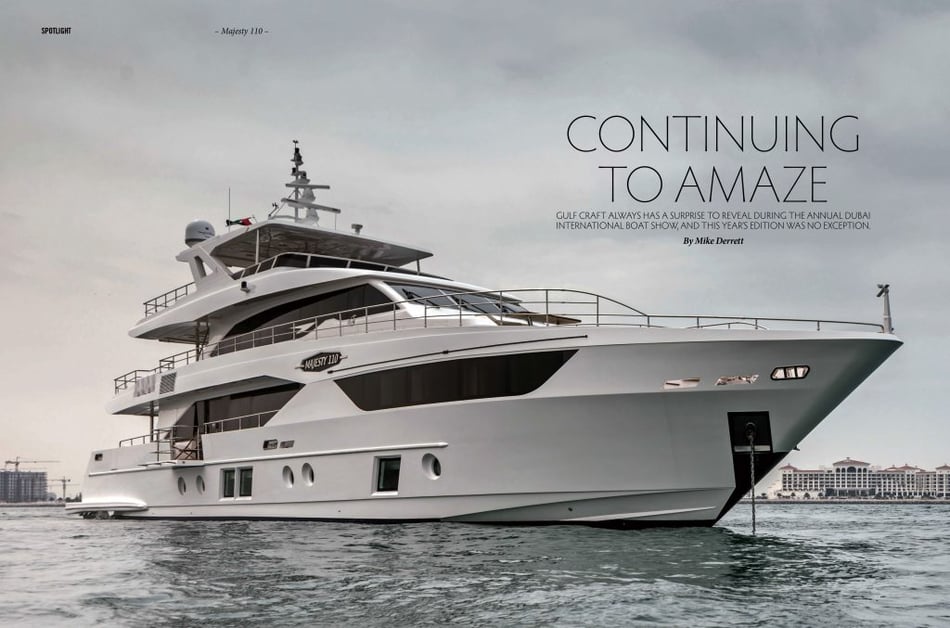 The new Majesty 110 was unveiled by Gulf Craft recently as the latest addition to the Majesty Yachts – Superyacht Collection. The wide product range exemplifies Gulf Craft's unique ability to offer designs tailored to meet the needs of every yacht and boat enthusiast, from a 27-foot cabin cruiser to a 155-ft superyacht.
These designs and the finished products are why Gulf Craft was named Best Asian Motor Yacht Builder at the 2016 Asia Boating Awards organised by Asia-Pacific Boating and China Boating magazines.
The Majesty 110 brings together 35 years of boat-building experience and a stunning combination of advanced technology and engineering coupled with innovative design. Gulf Craft's continuing investment in research and development, and in improving its manufacturing processes really shines through with this latest and youngest tri-deck in the fleet.
A lot of new features and benefits for the owner are packed into this 33-metre superyacht, including the impressive use of space in one of the smallest tri-deck superyachts on the market while maintaining tasteful styling. In fact, this yacht has such a large interior layout that you can lose
awareness of where you are.
A key feature throughout the superyacht is the liberal and impressive use of marble in almost all cabin areas, some of it tastefully inlaid with polished stainless steel and all complemented by the eucalyptus veneer trim and the flooring in white oak with a rough cut finish, a perfect combination. The Majesty 110 is fitted with some of the latest navionics, as well as leading Bang & Olufsen entertainment sound system.
As with all Majesty Yachts models, the Majesty 110 is a semi-custom superyacht with the owner having an impressive choice of layout, interior trim and furnishings – all down to Gulf Craft's continuing investment in technology that allows efficient and fast semi-custom work to be offered.
READ the full article, CLICK HERE.