The world's most exclusive yacht magazine, Invictus, presents a yacht review of the Majesty 110 in the article 'Spanning the Gulf' in their September- October 2016 issue.
Despite being one of the world's Top 10 superyacht producers, UAE-based Gulf Craft and their Majesty Yachts range is arguably one of the sector's best kept secrets. During their 35-year history the Middle Eastern powerhouse has been synonymous with offering value for money; they still are, but as their new Majesty 110 demonstrates, they also produce yachts of a quality that more than hold their own in a highly competitive market segment.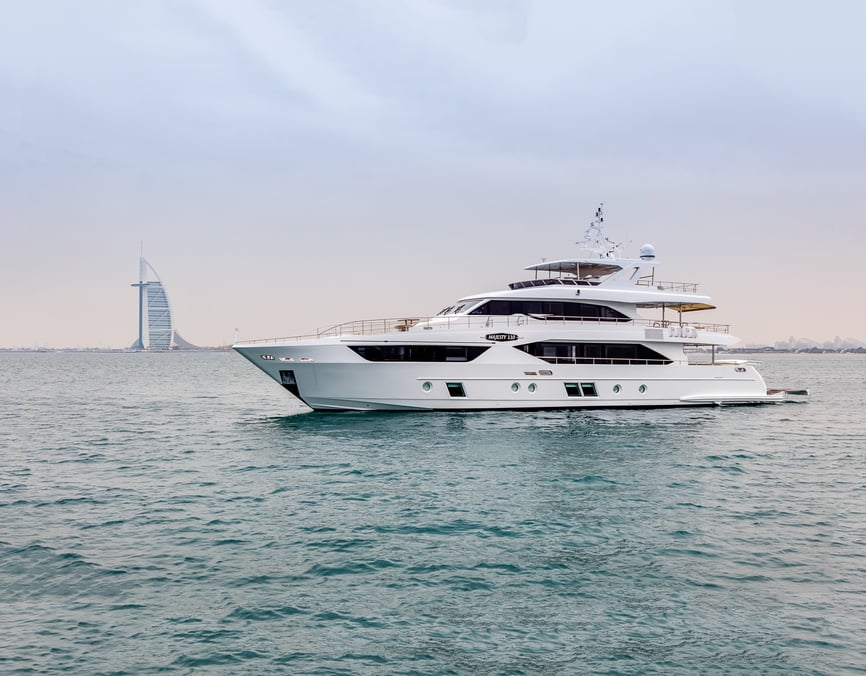 Gulf Craft's Majesty 110, tri-deck superyacht
While the quality of a superyacht such as the Majesty 110 is immediately apparent in terms of the finish, quality and design, what is more difficult to discern is the quality of the hull, superstructure and engineering. It is in this more technical disciplines that Gulf Craft has noticeably achieved over the years. This is best answered by a visit to the state-of–the-art Umm Al Quwain shipyard where we noted attention to detail, such as the vacuum bagging manufacture of the fiberglass hulls, the closed cell foam used for the frames and the balsa sandwich superstructure construction. In addition, the structural bulkheads are made with a core cell foam sandwich for strength and lightness. Manufacturing the structure of a yacht in this hi-tech way produces a light strong and stiff vessel and saves several tons in weight which increases performance and fuel economy.
Gulf Craft has made a momentous journey from humble beginnings as a small boat builder to an international superyacht brand. Today, it ranks amongst the world's Top 10 superyacht producers and holds plenty of accolades awarded in Europe, Middle East and Asia. Although the Majesty Yachts range now conveys high-end luxury and great value, this has not obscured the attention to detail needed to produce a yacht that can be easily handled by the crew. This yacht clearly lives up to itscredentials and the RINA MC Build standard.
CLICK HERE to view the article Volume 4, Issue 5 of the Invictus magazine.