Gulf Craft says the motivation of the Arab luxury consumer is evolving from a flashy statement of wealth to pride in creation and a desire for privacy and individuality
June 4th 2014 – The Middle East market is steadily moving from being a consumer to an active creator of luxury, leading players in the industry concurred at Arab Luxury World, a forum that focused on the region's luxury sector.
Participating in three key panels at the two-day forum which concluded yesterday at The Westin Mina Seyahi, Gulf Craft – a homegrown yacht and boat manufacturer that today is one of the world's top 10 superyacht builders – said the market has never traditionally been associated with manufacturing luxury despite it being a voracious consumer. However, the global success of "Made-in-the-Middle East" brands in industries as diverse as airlines, yacht-manufacturing, hospitality, fashion, perfumes and others is changing the perception and marketability of Arab luxury goods and services on an international scale.
Speaking alongside other Middle East success stories such as Ajmal Perfumes, S*uce, Fashion Forward and the Chalhoub Group on a panel on "Home-Grown Luxury", Erwin Bamps, Chief Operating Officer of Gulf Craft, noted that the Middle East today is steadily building a reputation for itself as an exporter of luxury. The panelists agreed that many successful Arab brands are now at a point where they have the heritage, the expertise and the appreciation at a local and an international level and are carving their place in the global luxury landscape.
Developing the conversation further at a panel on "Marketing to the Ultra-Rich Arab" together with Christie's, Coutts and Above and Beyond, Bamps added that the profile of the HNWI in the Arab world was evolving. "Today the average age of a yacht buyer is in the 50+category, an increase of almost 10 years to a few decades before. Owners of luxury products such as yachts today are less concerned about ostentatious displays of wealth and the ownership of flashy toys and more concerned about issues such as privacy and customization. Yachts are being bought more as private spaces to spend time with friends and family or as an extension of the business environment to entertain colleagues and clients."
He added: "There is less pride in mere ownership of a product and greater pride in creation – buyers of luxury goods today do their due diligence, they want to be involved in the making of the product and putting their own stamp on it."
Bamps comments mirror the findings of the "World Luxury Tracking" survey conducted by IPSOS, which was presented at Arab Luxury World, which revealed that UAE consumers privilege quality, brand and advanced innovation above all – much more than in Western or East Asian countries. Surveyed respondents in the UAE and KSA additionally showed a high expectation of exclusivity from luxury, supporting the idea of an increased desire for personalized, one-of-a-kind products.
Other key issues addressed at the forum included the Arab HNWIs' concern with legacy and inheritance, stability and sustainability of family fortunes, provenance, philanthropy and the development of an active Arab "collectors' community" for everything from high-end horology to contemporary art.
More photos of the conference:
[gallery ids="4213,4218,4216"]
About the Arab Luxury World Conference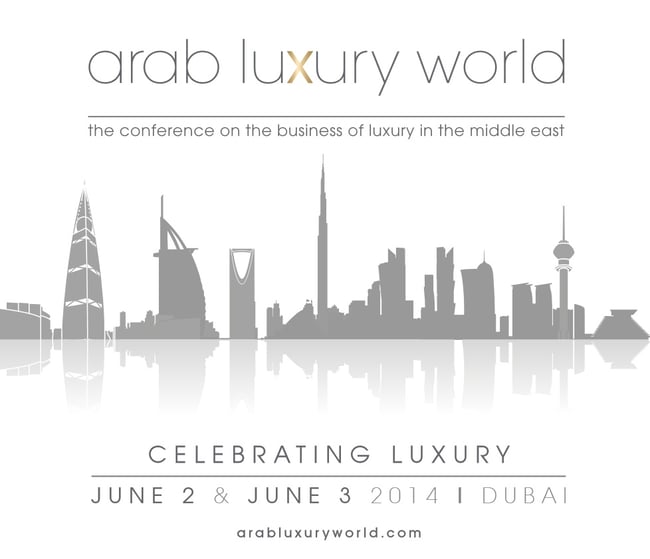 With more than 350 million inhabitants, important natural resources and a growth rate exceeding four percent, the Middle East region is fast becoming one of the brightest markets in the world.
The region's healthy luxury sector, estimated to be worth between $6 billion and $10 billion, has recorded a CAGR of 11 percent in the past five years and should maintain growth of eight percent over the next three years.
Thanks to a young population, with 50 percent aged 30 years and below, the Middle East is also home to 500,000 high-net-worth-individuals, with assets exceeding $1.8 trillion.
This boom has been fueled by the region's economic growth and heavy investments made on retail space, increasing by more than 145 percent in gross leasable area.
The local population's average monthly spend on fashion is $1,300, which is ten-fold the average spend in some European countries.
The luxury market has a bright future, but there remain challenges and issues to address.
Arab Luxury World took place on June 2 and June 3, 2014, in The Westin Hotel, Dubai.