Gulf Industry features Gulf Craft in its March 2015 issue, pp 66-67 entitled, "Gulf Craft buoyant about exports". Mohammed Al Shaali, Chairman of Gulf Craft and Erwin Bamps, Chief Executive Officer were interviewed for this article.
About Gulf Industry
Gulf Industry, published by Al Hilal Group has now established itself as a "must-read" publication for anyone with an involvement in the region's industrial sector whether as manufacturers, distributors or related service organizations.The publication represents a "window" into the Gulf's manufacturing trading and export sectors providing news, views analysis and information across virtually every industry related sector.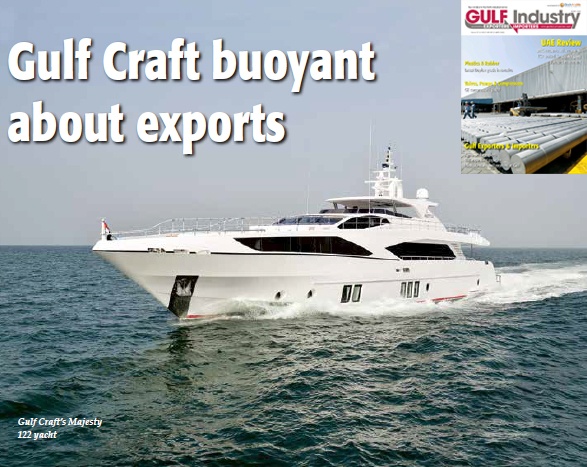 The Article
Gulf Craft, one of the top 10 builders of superyachts in the world, is keen on intensifying its presence in the Gulf markets and beyond and capitalizing on its fame as a major supplier of leisure vessels. It showcased one of its latest superyachts, the Majesty 122, at the Kuwait Yacht Show last month, hoping to woo wealthy lovers of luxury boat cruising.
"Kuwait has a strong historical and cultural connection with the seafaring lifestyle, making the Kuwait Yacht Show a natural choice for Gulf Craft to first present our latest superyacht, the Majesty 122," said Chairman and Founder of Gulf Craft Mohammed Hussein Al Shaali. The Majesty 122 was the largest superyacht to ever enter the Kuwait market. The state is home to one-fifth of the GCC's boats with fishing and leisure cruising popular pastimes.
"The Majesty 122 incorporates alluring features such as an extended balcony and unrivaled on-deck lounging and entertaining areas, which will truly appeal to our Kuwaiti customers," said Al Shaali. It features ample outdoor and indoor space including a flowing fly-bridge that is directly connected to the front bow areas as well as the largest garage in the Majesty Yachts collection with capacity to store two three-seater watercraft.
Gulf Craft is also well known for its Oryx Sport Cruisers and Silvercraft leisure boats.
Read the full article: