Gulf Craft proudly announces the delivery of its first Silvercraft 36 HT to India through its India representative, West Coast Marine.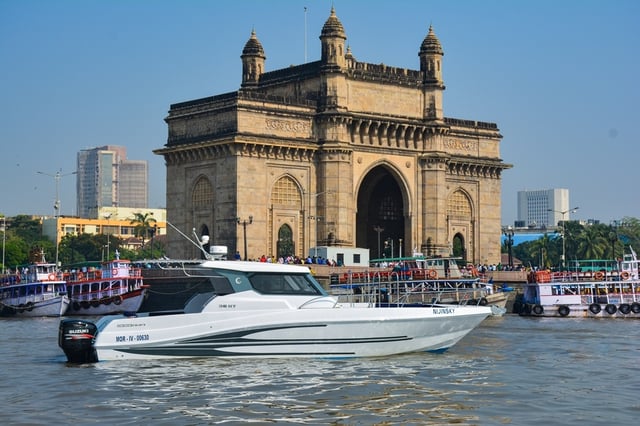 Silvercraft 36 HT at the Gate of India in Mumbai
India has always been one of the key markets of Gulf Craft. In the recent article in the November 2016 issue of IBI, West Coast Marine's CEO Aashim Mongia, discussed about the growing boating market in India.
Here's an excerpt from this article:
Whilst India is at great pains to encourage inward investment for manufacturing, its government has also seen potential for its own domestic marine industry. India has 7,517km (4,671miles) of coastline much of it dramatically beautiful, and not a single marina to its name. But that is all set to change with two marinas in Goa due to come on stream by 2018.
At the same time, the development of the smaller ports and harbours to provide quayside amenities for leisure use is being actively encouraged. There is also a national programme to link the various rivers together into a national network. Helping to drive the embryonic Indian marine industry forward is Aashim Mongia, the CEO of Mumbai-based West Coast Marine Yacht Services PVT Ltd. The company sells new boats from international brands such as Gulf Craft. There is also a charter arm, plus a service centre and chandlery that stocks many global brands, such as Awlgrip, Dometic, Yamaha, Suzuki and Mastervolt. Marina development is another key business objective.
Mongia is very optimistic about the changes he is seeing, as the government begins to realise it is sitting on a revenue gold mine. "At the moment, the Indian market is very small, but its potential is immense," he told IBI. "We had been urging the previous government to make India into a boating destination for years, but they didn't deliver. But now things are happening."
Read the full article here.
Photos courtesy of Ariesa Mongia.