22th November 2015- Gulf Times, Qatar's top selling English daily newspaper, has recently published their Q&A with Erwin Bamps, Chief Executive Officer Gulf Craft. Gulf Times newspaper is being distributed by Gulf Publishing & Printing Company (W.L.L.).
Below is the article published in Gulf Times: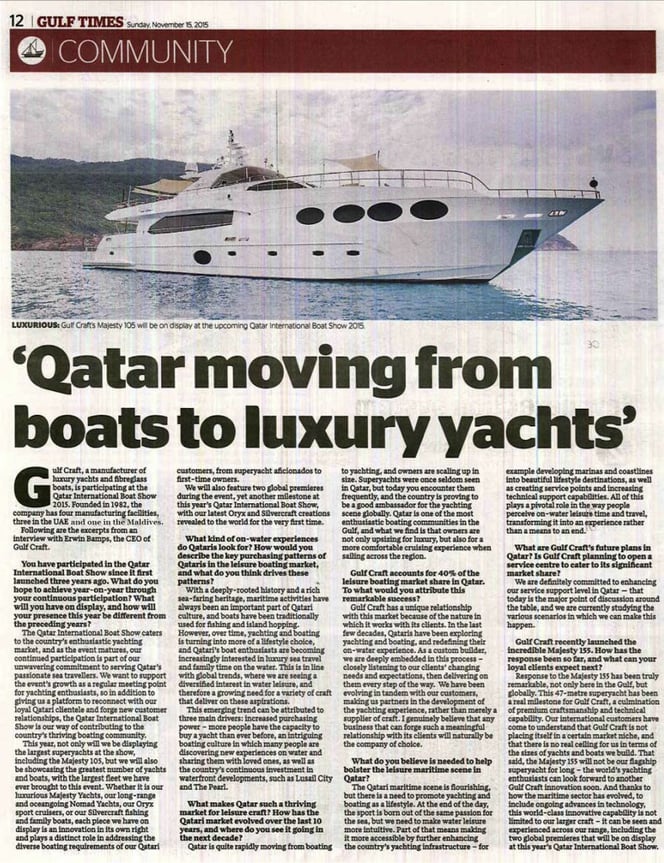 Q. You have participated in the Qatar International Boat Show since it first launched three years ago. What do you hope to achieve year-on-year through your continuous participation? What will you have on display, and how will your presence this year be different from the preceding years?
The Qatar International Boat Show caters to the country's enthusiastic yachting market, and as the event matures, our continued participation is part of our unwavering commitment to serving Qatar's passionate sea travelers. We want to support the event's growth as a regular meeting point for yachting enthusiasts, so in addition to giving us a platform to reconnect with our loyal Qatari clientele and forge new customer relationships, the Qatar International Boat Show is our way of contributing to the country's thriving boating community.
This year, not only will we be displaying the largest superyacht at the show – the Majesty 135 – but we will also be showcasing the greatest number of yachts and boats, with the largest fleet we have ever brought to this event. Whether it is our luxurious Majesty Yachts, our long-range and oceangoing Nomad Yachts, our Oryx sport cruisers, or our Silvercraft fishing and family boats, each piece we have on display is an innovation in its own right and plays a distinct role in addressing the diverse boating requirements of our Qatari customers, from superyacht aficionados to first-time owners.
We will also feature two global premieres during the event, yet another milestone at this year's Qatar International Boat Show, with our latest Oryx and Silvercraft creations revealed to the global public for the very first time.
Q. What kind of on-water experiences do Qataris look for? How would you describe the key purchasing patterns of Qataris in the leisure boating market, and what do you think drives these patterns?
With a deeply-rooted history and rich sea-faring heritage, maritime activities have always been an important part of Qatari culture, and boats have been traditionally used for fishing and island hopping. However, over time, yachting and boating is turning into more of a lifestyle choice, and Qatari's boat enthusiasts are becoming increasingly interested in luxury sea travel and family time on the water. This is in line with global trends, where we are seeing a diversified interest in water leisure, and therefore a growing need for a variety of craft that deliver on these aspirations.
This emerging trend can be attributed to three main drivers: increased purchasing power – more people have the capacity to buy a yacht than ever before, an intriguing boating culture in which many people are discovering new experiences on water and sharing them with loved ones, as well as the country's continuous investment in waterfront developments, such as Lusail City and The Pearl.
Q. What makes Qatar such a thriving market for leisure craft? How has the Qatari market evolved over the last 10 years, and where do you see it going in the next decade?
Qatar is quite rapidly moving from boating to yachting, and owners are scaling up in size. Superyachts were once seldom seen in Qatar, but today you encounter them frequently, and the country is proving to be a good ambassador for the yachting scene globally. Qatar is one of the most enthusiastic boating communities in the Gulf, and what we find is that owners are not only upsizing for luxury, but also for a more comfortable cruising experience when sailing across the region.
Q. Gulf Craft accounts for 40% of the leisure boating market share in Qatar. To what would you attribute this remarkable success?
Gulf Craft has a unique relationship with this market because of the nature in which it works with its clients. In the last few decades, Qataris have been exploring yachting and boating, and redefining their on-water experience. As a custom builder, we are deeply embedded in this process – closely listening to our clients' changing needs and expectations, then delivering on them every step of the way. We have been evolving in tandem with our customers, making us partners in the development of the yachting experience, rather than merely a supplier of craft. I genuinely believe that any business that can forge such a meaningful relationship with its clients will naturally be the company of choice.
Q. What do you believe is needed to help bolster the leisure maritime scene in Qatar?
The Qatari maritime scene is flourishing, but there is a need to promote yachting and boating as a lifestyle. At the end of the day, the sport is born out of the same passion for the sea, but we need to make water leisure more intuitive. Part of that means making it more accessible by further enhancing the country's yachting infrastructure – for example developing marinas and coastlines into beautiful lifestyle destinations, as well as creating service points and increasing technical support capabilities. All of this plays a pivotal role in the way people perceive on-water leisure time and travel, transforming it into an experience rather than a means to an end.
Q. What is Gulf Craft's future plans in Qatar? Is Gulf Craft planning to open a service center to cater to its significant market share?
We are definitely committed to enhancing our service support level in Qatar -- that today is the major point of discussion around the table, and we are currently studying the various scenarios in which we can make this happen.
Q. Gulf Craft recently launched the incredible Majesty 155. How has the response been so far, and what can your loyal clients expect next?
Response to the Majesty 155 has been truly remarkable, not only here in the Gulf, but globally. This 47-metre superyacht has been a real milestone for Gulf Craft, a culmination of premium craftsmanship and technical capability. Our international customers have come to understand that Gulf Craft is not placing itself in a certain market niche, and that there is no real ceiling for us in terms of the sizes of yachts and boats we build. That said, the Majesty 155 will not be our flagship superyacht for long – the world's yachting enthusiasts can look forward to another Gulf Craft innovation soon. And thanks to how the maritime sector has evolved, to include ongoing advances in technology, this world-class innovative capability is not limited to our larger craft – it can be seen and experienced across our range, including the two global premieres that will be on display at this year's Qatar International Boat Show.
---
NOTE: Correction on the article published- "Gulf Craft has four facilities- three in the United Arab Emirates and one in the Maldives" not in the Philippines as mentioned in the article.