Dubai, UAE – 3rd November 2016: Emirates-based Gulf Craft raised the UAE flag high and proud on board its world-class yachts on display at the Dubai Pre-Owned Boat Show today.
The pioneering shipyard, known for its diversity of craft – ranging from fishing boats and family cruisers to state-of-the-art superyachts, is showcasing some of its most popular innovations, including the luxurious Majesty 66 and Majesty 48, as well as the long-range Nomad 55, and the Oryx 43 Fly sport yacht.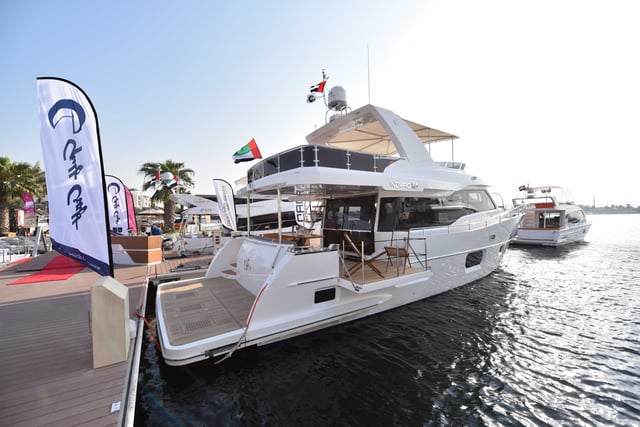 Nomad 55 proudly waving the UAE National Flag
Through its commitment to manufacturing and customer service excellence, Gulf Craft continues to put the UAE on the map in the global leisure marine industry. With a solid track record of delivering quality craftsmanship, Gulf Craft combines powerful engineering with timeless design to ensure that each and every craft retains its long-term value.
Guests can visit Gulf Craft at stand number A8 at the Dubai Pre-Owned Boat Show, which takes place from 3-5 November at the Dubai Creek Golf and Yacht Club.
---
LIKE us on Facebook | FOLLOW us on Twitter | FOLLOW us on Instagram