Dubai, November 14, 2018 – Gulf Craft achieved yet another successful participation at the annual Dubai Pre-owned Boat Show 2018 that was held at the Dubai Creek Golf & Yacht Club from 8th to 10th November 2018. A regular participant since 2012, Gulf Craft featured three certified pre-owned yachts - the Majesty 88, Majesty 77 and Majesty 66 and a brand new Majesty 48.
Visitors to the 3-day event showed great interest in the Gulf Craft fleet. Being established as a yacht and boat shipyard, Gulf Craft's brands have earned a reputation for build quality, reliability, and durability. This in turn has helped its range to hold their value much longer, thereby capitalizing on customer enthusiasm for new as well as pre-owned superyachts, yachts and boats.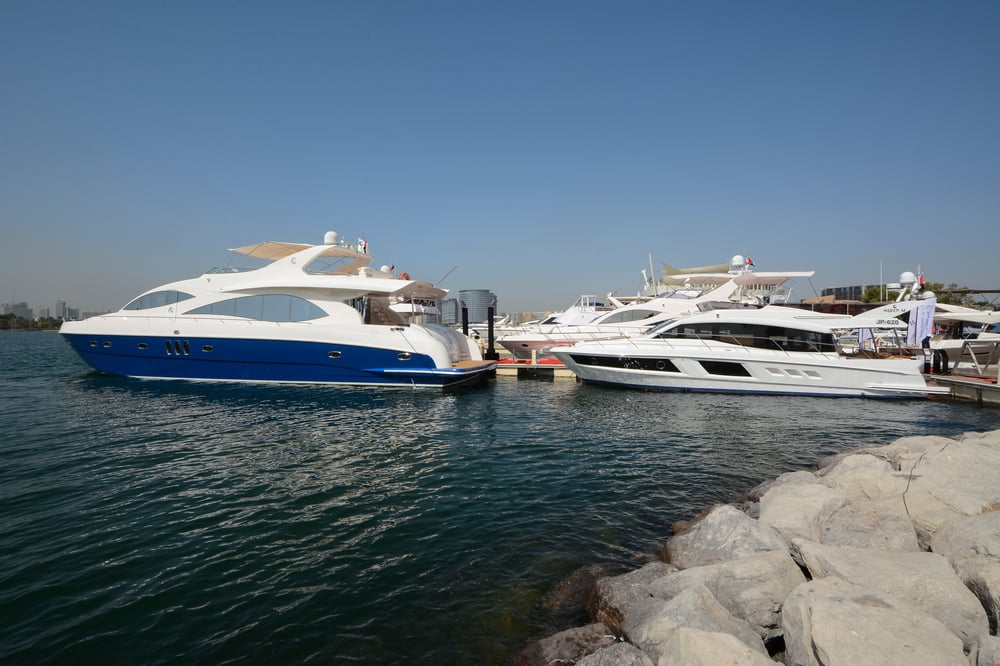 Majesty 88 & Majesty 48 at the 2018 Dubai Pre-owned Boat Show
While higher residual value inspired confidence in the brand on the long run, for new yacht owner's it bolstered their immediate confidence to invest. Buyers of pre-owned yachts at the show could look forward to an easy way to own with assured peace of mind.
Dubai's growing stature as the ninth in the world for superyacht production (World of Yachts' Report) and fifth largest maritime capital in the world in terms of competitiveness and attractiveness (Menon Economics' Report) will soon make it one of the top 10 maritime capitals of the world. With year-round success at international shows around the world and those held in the Emirates, Gulf Craft was poised well to consolidate its position even further in this favorable home market scenario.
Seeking growing opportunities as first-timers and seasoned customers looking for a secondhand yacht arrived at the Dubai Pre-Owned Boat Show, Gulf Craft presented the new 15 meters long Majesty 48 fly-bridge yacht. Designed exclusively for family leisure cruising, it was a perfect choice for short breaks and for entry-level owners who wished to manage their yacht unaided. The Majesty 48 offered abundant light, generous space across its 3 cabins and a panoramic main deck.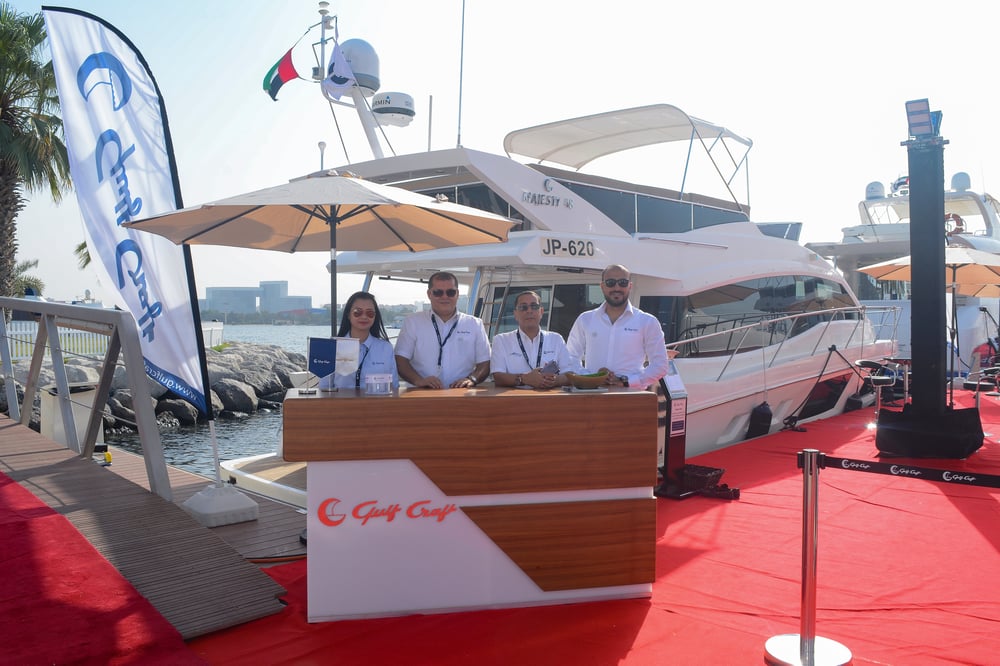 Gulf Craft team at the Dubai Pre-owned Boat Show
Moving over to the extremely well maintained, certified pre-owned line-up, yacht enthusiasts had the choice of an elegant Majesty 88 capable of easily accommodating large parties between its spacious saloon and fly-bridge area that was equipped with a barbecue and bar.
The second pre-owned yacht on display was the Majesty 77, a perfect choice for family cruising or intimate social gatherings. With a capacity to accommodate up to eight overnight guests within its four roomy cabins, which included a master, a VIP double and two twin double beds, the yacht featured leather furniture and dark wood, a bar in the large living space, and a separate dining area.
The last yacht in the fleet at this year's Dubai Pre-owned Boat Show was the smaller yet highly popular Majesty 66 with a regal ambience to host social and corporate functions. Featuring four state-of-the-art cabins as well as a spacious, lavishly appointed lounge and bar, the yacht boasted a palatial split-level dining area.
"This year we enjoyed quite a success as our yachts generated a lot of interest from potential buyers from the UAE and the GCC. Moreover, we also received inquiries on the other yachts and boats in our range. Dubai Pre-owned Boat Show interestingly brought us face-to-face with our existing clients who showed great enthusiasm in our upcoming projects.", added Mahmoud Itani, Marketing & Communications Manager of Gulf Craft.