Phuket, Thailand- Pioneering yacht and boat builder Gulf Craft presented its luxurious Majesty 56 and Majesty 48 yachts and Silvercraft 34 family boat at the Phuket International Boat Show (PIMEX 2017) in cooperation with Go Boating Thailand.
Having served South East Asia's seafaring community for more than 25 years, Gulf Craft continues to reaffirm its commitment to creating memorable cruising experiences and delivering value to the region's boating enthusiasts, who are increasingly looking to spend more quality time on the water.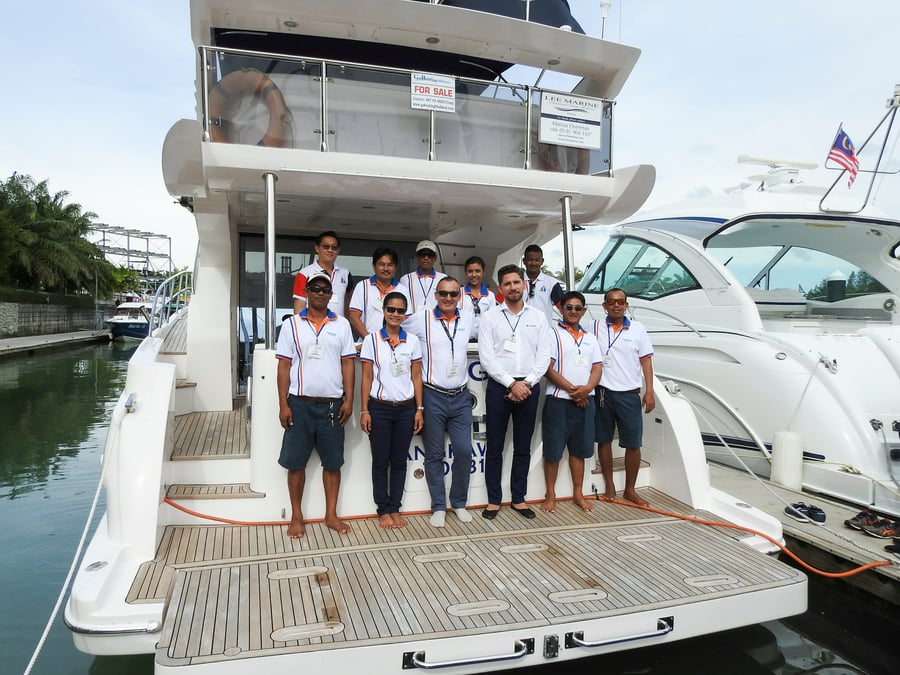 Our PIMEX team from Gulf Craft, Go Boating Thailand & Pangkor Malaysia
A world-class yacht expressly designed for leisure cruising, the 15-meter Majesty 48 has always been one of the most popular yachts on display at PIMEX, with its comfortable fly-bridge, a fully equipped galley, a luxuriously adorned main saloon and dining area, lavish bathrooms and guest rooms, as well as panoramic windows throughout the cabin, allowing guests to enjoy sweeping views of the azure Andaman Sea both inside and out. The yacht can comfortably host more than a dozen persons from its viewing decks, making it ideal for a weekend escape with family and loved ones.
Meanwhile, the Silvercraft 34 is part of Gulf Craft's Silvercraft range of fishing boats and family cruisers, which has proven to be a preferred choice among Thailand's charter companies and private owners. At just over 10 meters in length, the Silvercraft 34 can host up to 13 guests, with two cabins below deck, one of which can be used as an additional entertaining area and is conveniently located next to the galley. The outdoor bench-style seating is perfect for relaxing in the shade, while guests looking to soak up the sun can do so comfortably from the boat's spacious forward seating area. The cockpit also comes equipped with a sink, cool box, and workspace so that refreshments are easily within reach.
Check out this photo gallery taken during the Phuket International Boat Show: