With its ingenious utilization of indoor and outdoor space, clever fly-bridge and deck design and an extensive outdoor entertaining area, it's no surprise the Majesty 105 has already turned plenty of heads.
The Majesty 105 has proved highly popular since its global premiere in 2012, with several Majesty 105s already delivered to date and others in production.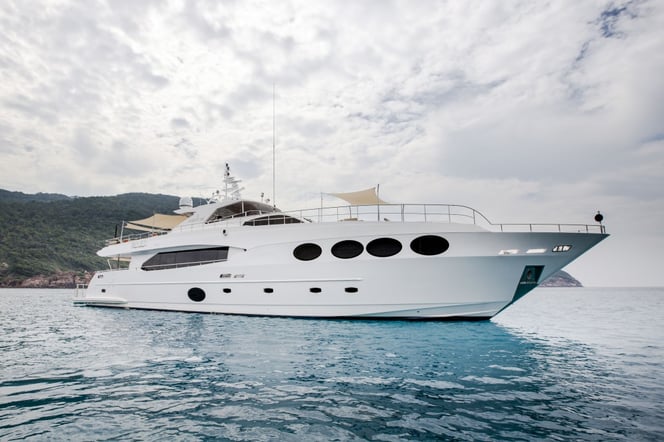 The Majesty 105 is a superyacht created with a Mediterranean lifestyle in mind. It favored a form that followed functionality. The ample space is a distinctive feature throughout the yacht-starting from the crew area, passing through the main saloon and guest staterooms and ending up on the fly-bridge. The yacht was conceived to maximize on-deck lounging and entertaining areas.
Gulf Craft & Go Boating Thailand has been displaying the Majesty 105 superyacht at the Phuket International Boat Show (PIMEX) from January 7-10, 2016 at the Royal Phuket Marina.
The Majesty 105 has been designed to fulfill the evolving yachting aspirations of the region's passionate seafarers, offering sweeping views of the sea through its panoramic large windows,, expansive outdoor entertaining and lounging areas, including a spacious aft deck and a large hard-topped sun deck. The Majesty 105 is the perfect superyacht for those who relish spending time admiring the coast while island-hopping, or for holidaymakers looking to catch all the action moored alongside the waterfront.
Prior to the event, the yacht had a photo shoot in picturesque Phuket. Here are more of the stunning shots of the Majesty 105 M/Y Mykonos in Thailand: