2 October 2017- Gulf Craft & Australian Superyachts team up for its first participation at the Auckland On Water Boat Show held at the ANZ Viaduct Events Centre & Viaduct Harbou, Freemans Bay, Auckland from September 28-October 1.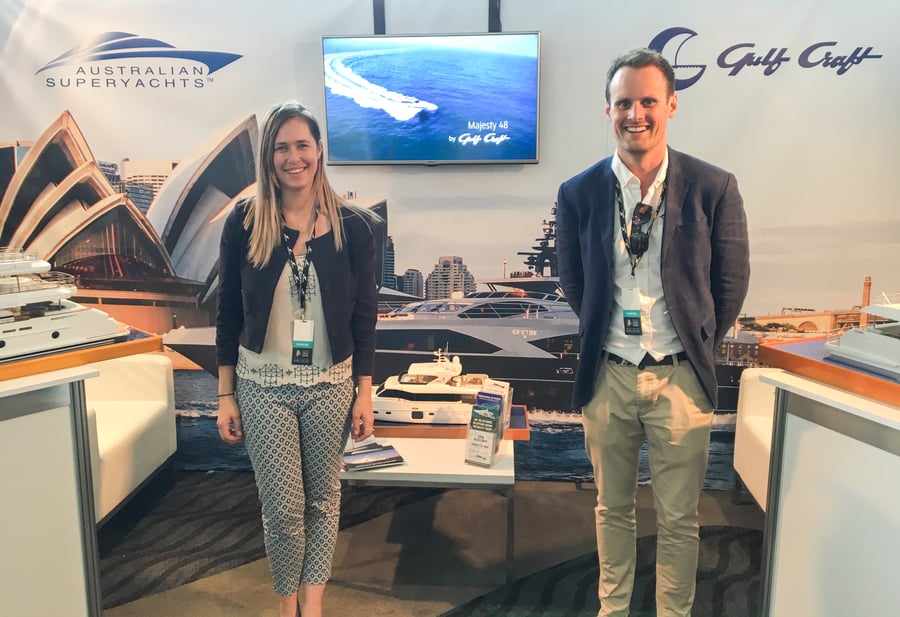 Hannah Moore and Greg Carmody all smiles at the Gulf Craft-Australian Superyachts stand at the Auckland On Water Boat Show.
New Zealanders are renowned for having a close passionate relationship with the sea and all things maritime; from fishing to recreational water sports, to being world-class sailing champions and developing a strong local superyacht sector.
Australian Superyachts Managing Director Richard Morris said "We have had many clients from New Zealand visiting us at the Sydney Boat Show so it was a natural extension for us to participate in the local NZ market to increase brand awareness of the Gulf Craft range of products that are particularly suitable for New Zealand conditions."
Australian Superyachts, represented at the Auckland Boat Show by Hannah Moore and Greg Carmody, showcased the Majesty 155 and Majesty 100 superyacht models alongside the Nomad 75 long-range yacht model.
Greg Carmody, commented; "There was a lot of fishing equipment and fishing boats at the show and as a result we received a great deal of interest in the Silvercraft fishing & family boats as well as Nomad yacht range. We also received a lot of interest in the Majesty superyacht range noted for both its recreational and commercial applications. There is much excitement in New Zealand with the recent Americas Cup win that will bring the regatta back to Auckland in 2020, thereby opening superyacht charter opportunities for clients during that event."
Hannah Moore was pleased with the show and commented that it had been a great week in a new market meeting people and introducing them to Gulf Craft and Australian Superyachts. "It was a great way to expand the brand into a country that had not had enough precious exposure to Gulf Craft. It has been a very productive week with a number of contacts made for immediate follow-up, and we look forward to coming back next year, and continuing to support our present and future clients in this wonderful country", she said.