Gulf Craft's biggest superyacht in the Majesty Yachts collection, the Majesty 155, is featured in the latest issue of Hadag, one of the leading marine lifestyle magazines in the GCC.
Here's an excerpt from the Majesty 155 article in the 8th issue of Hadag magazine:
The 155 is the largest, most luxurious yacht that the company has released to date, and is Gulf Craft's fust displacement superyacht. At 155 feet (47 meters), the Majesty 155 offers owners the experience of luxury and comfort at its finest, from an ornately designed fountain on the sundeck, surrounded by a spacious seating area where passengers can enjoy breathtaking views of the water, to a beautiful waterfall that cascades from the rear sundeck into the Jacuzzi situated on the upper deck.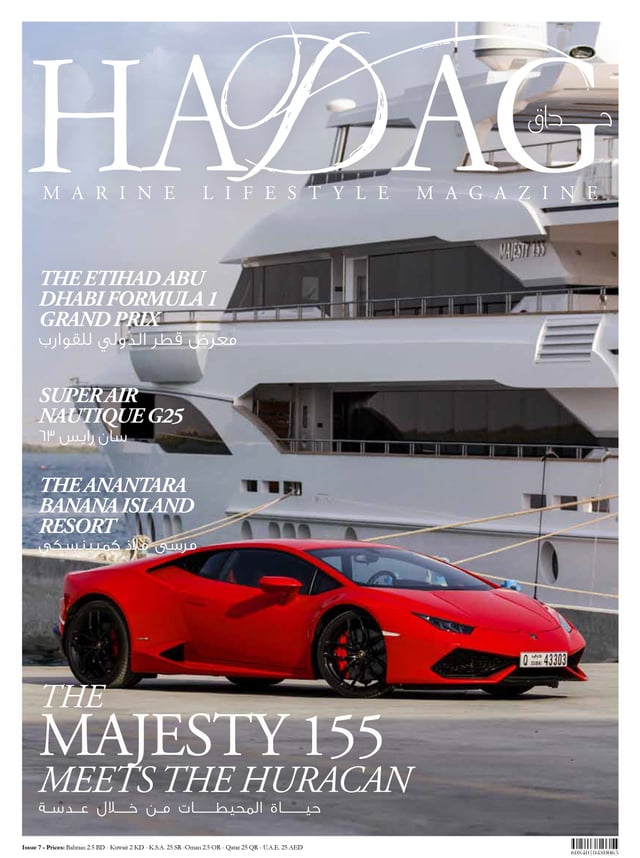 The owner's first-class stateroom is furnished using only premium fabrics and leathers, with counter tops constructed from Cappuccino Onyx and CremaMarfil marble, further emphasizing the room's elegance. The dedicated cigar lounge within the owner's stateroom features a ceiling crafted from genuine cigar leaves, adding a delicate yet artistic couch to the room's design. The owner's stateroom balcony is another distinct feature of this superyacht, allowing owners to enjoy the panoramic seascapes from the privacy of their own room.
CHECK OUT the full article here.
---
LIKE us on Facebook | FOLLOW us on Twitter | FOLLOW us on Instagram