8th February 2016- Gulf Craft received the confirmation from Boat International Media informing that not one, but three Majesty Superyachts- Majesty 155, Majesty 135 and Majesty 122, have been selected as finalists in the prestigious World Superyacht Awards 2016!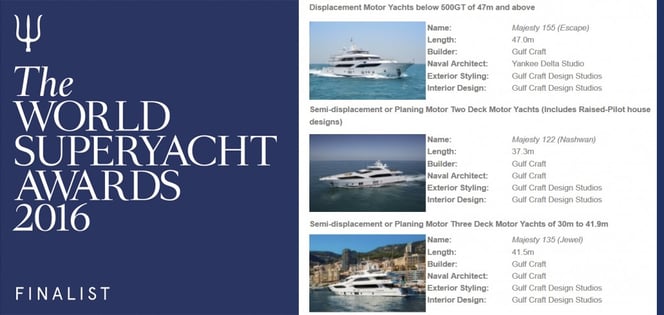 The Majesty 155 M/Y Escape, is one of the finalists under the Displacement Motor Yachts below 500 gross tonnage from 47 m and above category. The Majesty 135 M/Y Jewel, which was displayed at the 2015 Monaco Yachts Show is one of the finalists under the Semi-Displacement Three Deck Motor Yachts from 30 m- 41.90 m category. And lastly, the Majesty 122 M/Y Nashwan, is a finalist under the Semi-displacement Two Deck Motor Yachts category.
Winners will be announced in the historic city of Florence, Italy, which has been chosen to host the eleventh annual World Superyacht Awards gala evening on May 14, 2016. The gala dinner will be hosted at the Palazzo Vecchio.
About the World Superyacht Awards
Organized by Boat International Media, the World Superyacht Awards honour the finest new superyacht builds delivered to their owners in the past twelve months.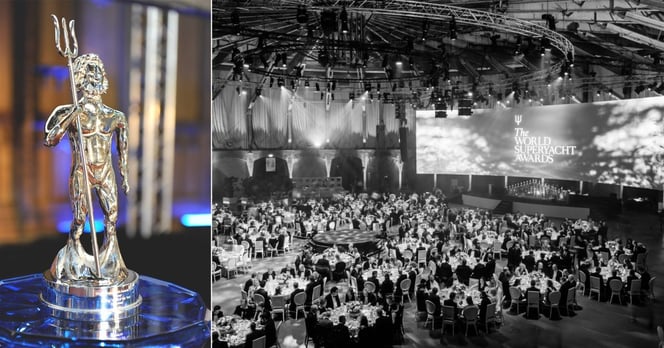 The image of the coveted Neptune trophy has become synonymous with excellence in superyacht build and design. These prestigious awards are now displayed on magnificent vessels all over the globe, a badge of distinction proudly worn by their owners.
There are five awards for displacement motor yachts (those vessels that always displace their own weight of water), and four awards for semi-displacement motor yachts that at higher speeds displace less than their weight of water, operating in 'planing' mode. This distinction is made because these two types of yachts call for very different construction philosophies, the latter type being much more lightly-built. Two further awards are reserved for sailing yachts, and one award for yachts that have been given major refits that finished in the qualifying year. Finally, there are two awards for the motor yacht and sailing yacht that are considered by the judges to be the most notable in the qualifying year.
The World Superyacht Awards was established to recognize the remarkable ingenuity and innovation demanded by the design, engineering and construction of the world's finest luxury yachts.
---
LIKE us on Facebook | FOLLOW us on Twitter | FOLLOW us on Instagram