Gulf Craft releases the latest update of its interactive mobile app for iOS & Android users worldwide. The enhanced version brings improvements to the app's design, user interface, easier navigation, and functionality of the app.
It is now easier to connect with us to know more about our worldwide network of dealers & partners and to access the latest news and events related to the shipyard. The new version includes the streamlined product pages of our vessels from our brands – the flagship Majesty luxury yachts, Nomad long-range yachts, Oryx sports cruisers, and Silvercraft fishing and day boats.
Users can now easily access rich high-definition media from the portfolio and can easily save to their devices while sharing the images on WhatsApp or any other third-party apps is now also possible. Additionally, users can access a library of useful digital resources such as detailed specs, brochures, and immersive 360-degree virtual tours of Gulf Craft's yachts and boats.
One of the major features is the ability to self-register & login into the app with an added level of access to specific media or product-related information (provided by Gulf Craft) i.e., as a guest user, Gulf Craft boat owner, dealer, Gulf Craft Employee, media or industry personnel, etc.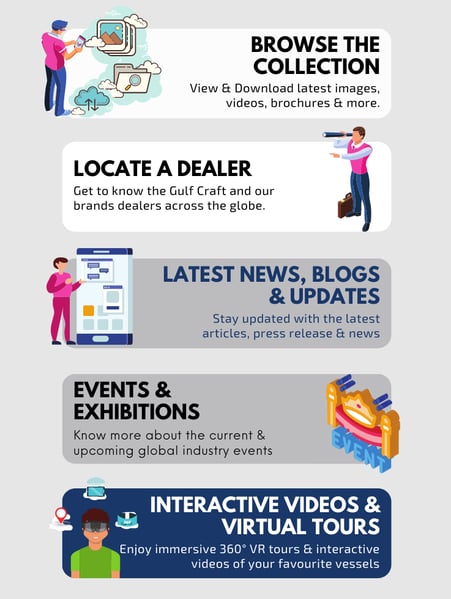 The Official Gulf Craft app is part of our growing digital infrastructure which allows us to open up the world of Gulf Craft in a single click. It has been specifically designed to showcase our products and services for a more streamlined experience. Kindly download the app and get hands-on experience with the intuitive platform, and we look forward to hearing your feedback.

The Gulf Craft application is available and free to download from the App Store and Google Play Store now.