The premiere of the 47m Majesty 155 has been a huge success! Gulf Craft's largest and latest addition to its Majesty Yachts brand clearly shows the company's continuous dedication to the luxury superyacht market.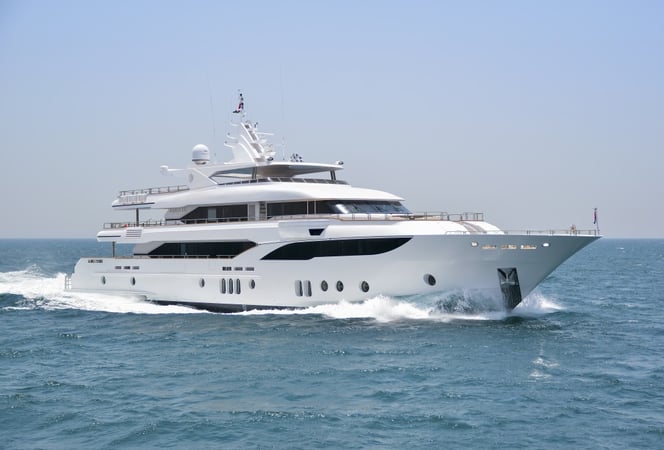 The Majesty 155 offers owners the experience of luxury and comfort at its finest, from an ornately designed fountain on the sundeck, surrounded by a spacious seating area where passengers can enjoy breathtaking views of the water, to a beautiful waterfall that cascades from the rear sundeck into the Jacuzzi situated on the upper deck.
The elaborate and sophisticated detailing of the Majesty 155 provides owners with an unsurpassed luxury experience in both style and functionality. The owner's first-class stateroom is furnished using only premium fabrics and leathers, with counter tops constructed from cappuccino onyx and crema marfil marble, further emphasizing the room's supreme elegance.
The dedicated cigar lounge within the owner's stateroom features a ceiling crafted from genuine cigar leaves, adding a delicate yet artistic touch to the room's alluring design. The owner's stateroom balcony is another distinct feature of this superyacht, allowing owners to enjoy the panoramic seascapes from the privacy of their own room.
Onlookers of the Majesty 155 will be dazzled by the underwater lights that surround the entire base of the superyacht, illuminating its commanding presence as it sets sail into the open seas, while maintaining a majestic night time stature within its berth.