Gulf Craft has recently delivered one of its special projects, the Sea Lounge 40. Built according to the specifications laid out by our partner, Smart Own, for a Kuwaiti client allowing their management to closely inspect the work progress on their USD 3 billion over-the-water bridge project in Kuwait, the Sheikh Jaber Al-Ahmad Al-Sabah Causeway Project, which is one of the largest infrastructure projects to be constructed in the GCC region. The Doha Link is a 13 km long marine bridge structure crossing the south of Kuwait bay linking the Shuwaikh Port with the Doha motorway.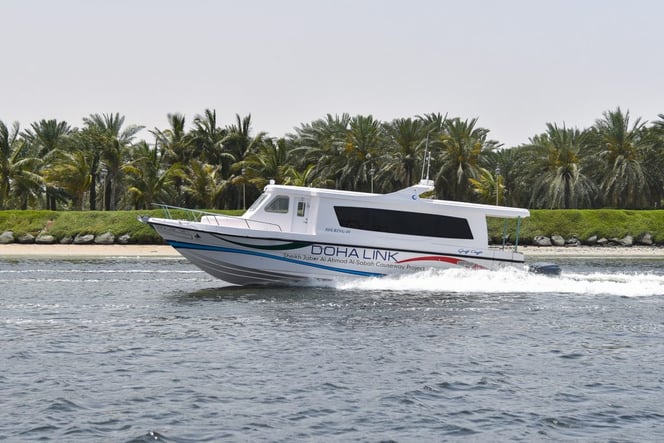 The Sea Lounge 40, a modified VIP version of the Touring 40, is a corporate boat that replicates the atmosphere and ambience of a high-end meeting room at the headquarters of a blue-chip company. The objective is to provide management and their high profile clients from the government and private sectors with a comfortable location on the water right under the bridge allow them to inspect progress on the project up close and personal.
The Sea Lounge 40 is a luxury passenger boat and a major part of the deck is dedicated to a large , luxurious meeting room. The lounge-style sofas are covered with high quality UV-treated marine leather with a lively beige color. A generous number of designer cushions and courtesy lights make for a relaxing ambience.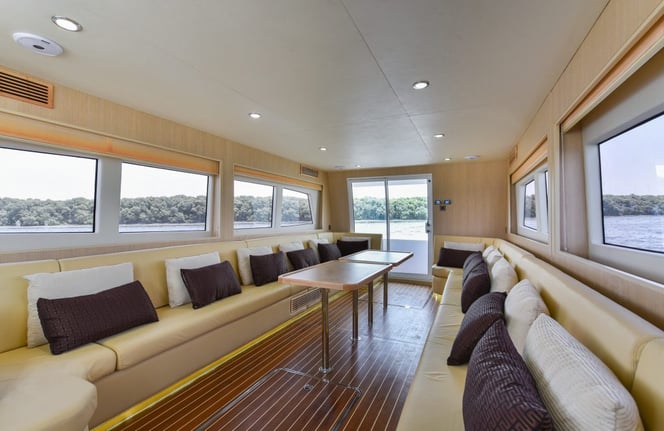 Two removable tables in the middle of the room can be used to review blueprints and other documents. When they are not required, they can be removed and stored in the large water-tight storage compartment in the bow area.
Digital presentations can be shown on the 32" LCD screen with USB, DVD and HDMI connectivity. Six Fusion marine-grade speakers guarantee that everyone on board can hear loud and clear and that even includes passengers taking a break outside on the swim platform.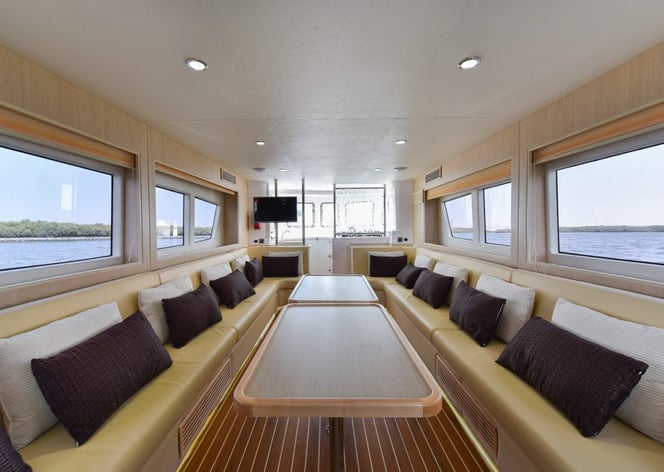 The boat is fitted with a super-powerful 48,000 BTU marine air conditioner, which guarantees optimum cooling even during Kuwait's scorching summer days. An 11 kW Kohler generator and an auxiliary 4 kW Kohler generator offer more than ample electricity sources for this generously outfitted corporate boat. A full Garmin GPS Map navigation package and VHF radio allow this seaworthy vessel to venture safely in the open seas and reach the project site.
A small galley is available next to the pilot, providing a sink, fridge and hot plate with glassware storage underneath and it should go without saying that the boat is equipped with a fully electric toilet cabinet in the bow area.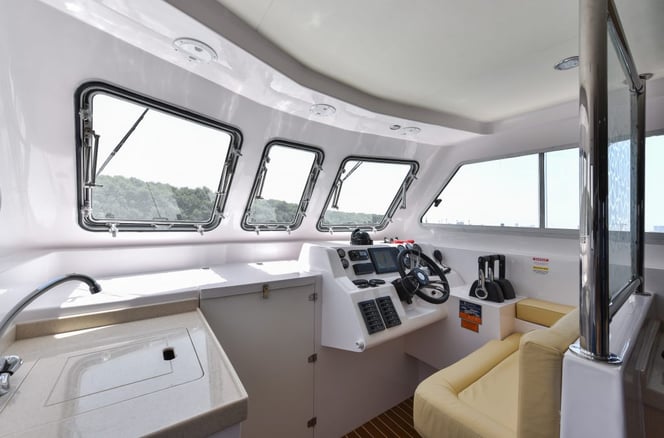 As a mobile, waterborne meeting room, the Sea Lounge 40 can provide any corporate or business meeting with new perspectives, first-hand experiences and fresh insights. And as a luxury passenger boat, the Sea Lounge 40 can cater to 5-star hotels, government officials and luxury water transport businesses who wish to offer their clientele a truly unique VIP experience.
READ MORE about this article here.
---
LIKE us on Facebook | FOLLOW us on Twitter | FOLLOW us on Instagram
Save
Save
Save
Save
Save
Save