7th April 2017, Singapore – Gulf Craft showcases samples of its innovative yachts series at this year's Singapore Yacht Show, which runs from 6-9 April, presenting its long-range Nomad 65 and family-oriented Majesty 48 yachts at the event.
Singapore is gradually becoming one of the world's premier cruising destinations, with an international clientele and regional newcomers to the boating scene drawn to the surrounding growing marine support infrastructure and excellent, vast cruising grounds.
Gulf Craft's annual participation in the event underscores the 35-year-old, Emirates-based shipyard's determination to meet the growing regional demand for leisure cruising driven by increased regional affluence and a rich maritime history.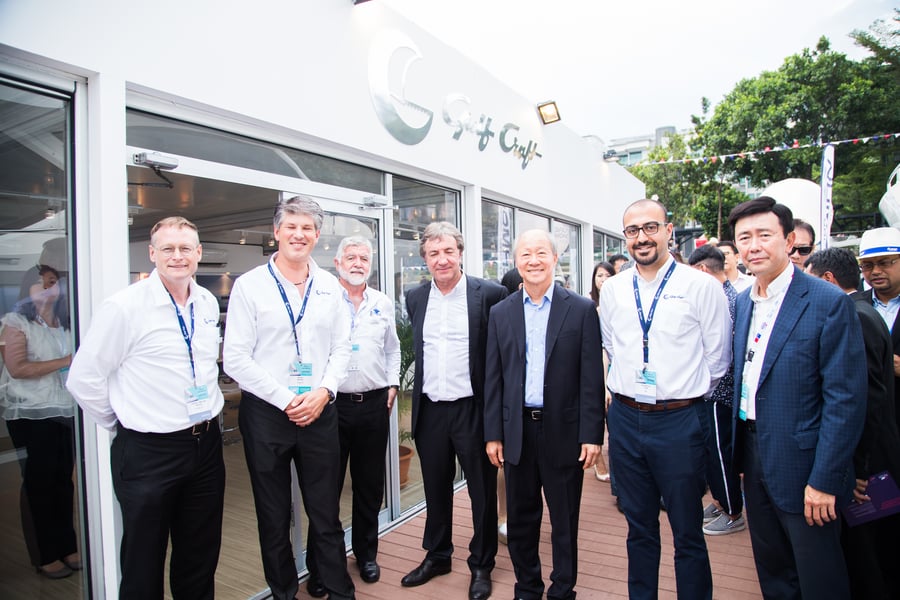 Gulf Craft & Promarine Yacht Sales with the Chairman of the Sentosa Development Corporation- Moses Lee; Executive Director and CEO of SUTL Enterprise- Arthur Tay; and Managing Director of the Singapore Yacht Show- Andy Treadwell
Gulf Craft's CEO, Erwin Bamps, who is also speaking at two of the event's conferences, the Asia Pacific Yachting Conference and the Asia Boating Forum, said: "Gulf Craft is delighted to be returning to Singapore Yacht Show following its successful participation over the last seven years. Our continuous market presence over the past 15 years has grown in line with the growing demand for leisure cruising and the development of a true yachting lifestyle in South East Asia"
"This year, Gulf Craft – together with our Singapore-based partner, Prometheus Marine – will be focused on widening our substantial regional customer base through a renewed commitment to outstanding customer service, before and after purchase," added Bamps.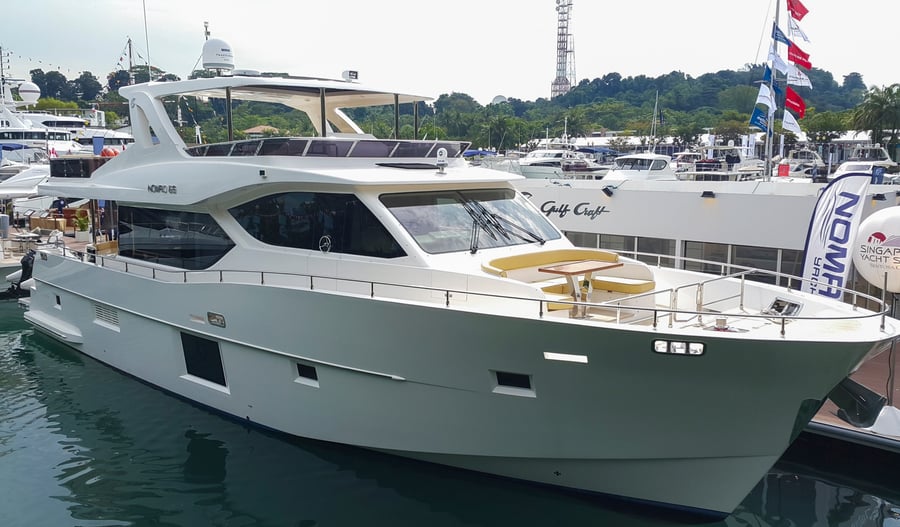 Nomad 65 showcased at the Singapore Yacht Show
Gulf Craft's yachts on display are truly optimized for the region's on-water preferences, with a focus on reliability, durability and overall low cost-of-ownership. Its Nomad 65 combines onboard luxury with long-range and excellent sea-keeping performance, enabling owners to take a five-star loft experience onto the world's waterways, near and far, and allow for comfortable on-water entertainment of a larger group of friends, while the company's Majesty 48, with its stylish and family-friendly layout, remains the dream boat of Asia's new entry-level yacht owners.
On the eve of the Singapore Yacht Show event, at the occasion of the Asia Boating Awards ceremony, Gulf Craft received the 'Best Asian Built Yacht' award for the Majesty 155 superyacht, underlining its commitment to quality and innovation. The Singapore Yacht Show is taking place at ONE°15 Marina Club, Sentosa Cove, and guests may visit Gulf Craft at its on-water stand, A1, until April 9.