The 47 metre Majesty 155 is the biggest superyacht yet to emerge from UAE shipyard Gulf Craft. She's big, yes, but equally hospitable.
The view from gate eight at Heathrow's Terminal Three is entirely appropriate. There, outside the window, the world's largest passenger jet, the Airbus A380-800, is waiting to whisk me to Dubai, where size is often off the scale and where superyachts are fast catching up with everything else in that dimension-busting city.
Gulf Craft, a 40-mile drive along the coast from Dubai, is leading the charge, with its new 47 metre Majesty 155. The company, founded in 1982, now employs close to 2,000 people, building some 300 yachts and boats a year. Its range extends down to 8.2 metres and there are five series, including a commercial line of passenger ferries and patrol boats.
The Majesty Yachts range starts at 14.5 metres and did reach 41 metres, until now. Four years of gestation have wrought this new flagship, a fine-looking craft from the pen of naval architect Massimo Gregori Grgic of Yankee Delta Studio in Italy.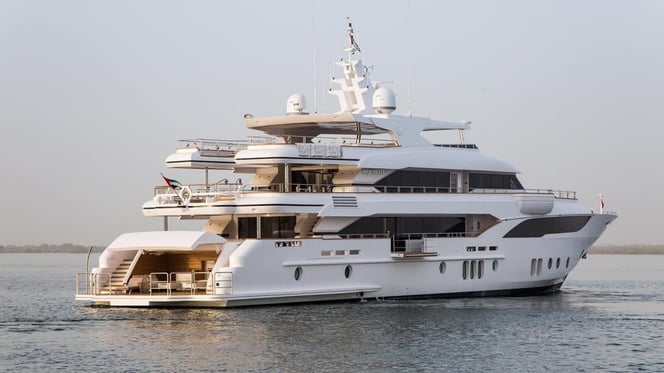 Majesty 155
From the steeply raked stem to the swept-back profile of the superstructure, there is a quiet class to this yacht that immediately draws onlookers to its grandiose yet welcoming presence. It represents Gulf Craft's very own A380 – its biggest and best craft – and an impressive step up from the previous Majesty 135 than an extra six metres would suggest, chiefly because of its expansive 9.6 metre beam.
But it isn't just sheer size that links the 155 with the Airbus. The 72.72 metre A380, which has an even bigger wing span, at 79.75 metres, is a composite construction instead of the aluminum from which we're used to seeing aircraft built, and likewise the Majesty 155 is all GRP rather than the steel or aluminum you might expect.
With its unique properties, advance composite technology is allowing manufacturers across industries to enjoy leaps in progress by exploring dimensions that would not have been possible years ago, and the Majesty 155 is a distinct example. Correctly applied, GRP offers fantastic build flexibility, is virtually stress-proof, and does not suffer of fatigue. The fiberglass structure's mechanical properties and strength do not deteriorate with time.
These properties make GRP ideal for shipbuilding, and have Gulf Craft ready to produce larger yachts using the same material.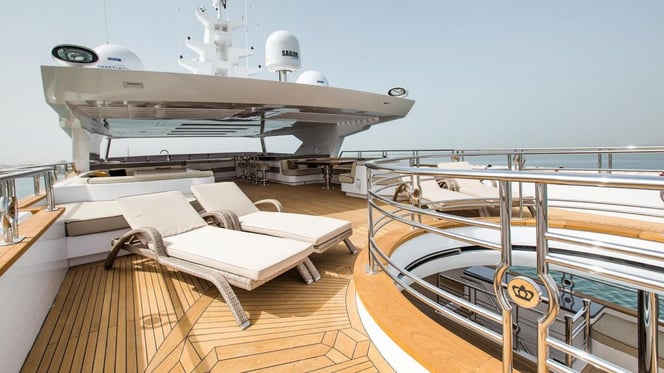 Majesty 155 sun deck
"Shipbuilding" is an interesting term, because Gulf Craft CEO Erwin Bamps sees this new craft very much as a small ship, not a big boat. With a round-bilge hull form, the Majesty 155 is strictly a displacement craft – the yard's first – designed primarily for endurance and range. To that end the twin 2,011hp MTU 12V 4,000 M63 engines are "E rated" for commercial use, detuned for longevity and providing excellent fuel efficiency. Top speed is a leisurely 16 knots but a 53,260-litre fuel capacity means that, at its 10 knot cruising speed, the yacht has a potential range in excess of 4,200 nautical miles, allowing continuous cruising for more than a week at a time.
The Majesty 155's hull design allows for low fuel consumption, long-range capability, and incredible comfort. In addition to offering substantial space, the 9.6 metre beam allows for an even greater stability. The hull design was tank-tested in Italy, and the actual ship proves to perform above all expectations. She is easy to handle, stable, and quiet, leaving minimum wakes behind.
Composite construction also affords exceptional flexibility. The hull is the fixed point; beyond that everything is up for negotiation, including the superstructure. The same is true of the interior. Gulf Craft will lay the boat out to your requirements, within the realms of what's physically possible. And that extends to the smallest detail. Barring engines and electronics, Gulf Craft manufactures almost everything in-house. Where most yards work with, say, high-end furniture suppliers to obtain chairs as close as possible to your requirements, Gulf Craft simply make the chairs in the style you desire.
That wide beam means there's plenty of room to work with. This first boat has a restfully Zen-like interior ambience, with pale woods, light upholstery and polished floors set off by dark polished accents. Leather vacuum-formed over-contoured panels create a classy three-dimensional effect.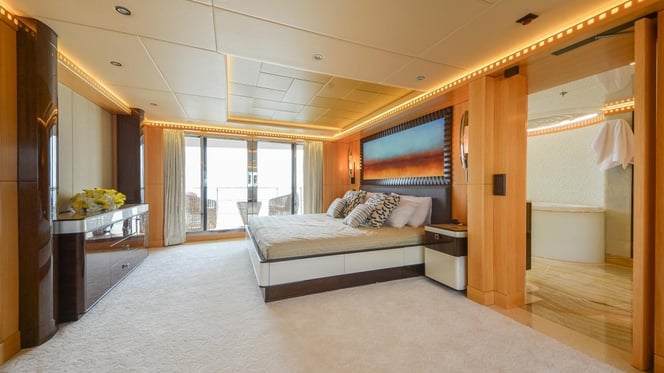 Majesty 155 Owner's Stateroom
Spread luxuriantly over three decks, the accommodation makes maximum use of the volume available. The Owner's Stateroom is positioned forward on the main deck, its en suite stretching across the full beam and featuring a mirror that doubles up as a big-screen TV. Furnished using only premium fabrics and leathers, with counter tops made from Cappuccino Onyx and Crema Marfil marble, each and every design element exudes supreme elegance. The dedicated cigar lounge within the owner's stateroom features a ceiling crafted from genuine cigar leaves, adding a delicate but artistic touch to the room's alluring design. There's a fold-down balcony accessed via sliding doors, but that generous beam has allowed this terrace to extend inwards as well as outwards. The recessed area creates a small private outdoor area that can be used while cruising rather than just at rest as is the case with most folding balconies – allowing owners to enjoy panoramic seascapes from the privacy of their own room at any point during the journey.
You'll find the main internal social area occupying the rear of this deck. Head past it and you'll discover a generous galley, while crew accommodation is also this way, with a stairwell leading down to a dining room and four en suite crew cabins. It means that you can run comfortably with five or six crew, yet retain the capacity to increase the numbers up to ten for charter work or serious entertaining.
Access to the guest accommodation is via a stairwell, just aft of the master suite. Or you can let the lift conveniently transport you to the lower deck. Down here en suite staterooms are laid out four-square, in this case a pair of doubles aft and a pair of twins forward. Guests will be charmed by the eloquent design of the lower deck guest staterooms, which are finished using the finest Red and Green Onyx and Botticino Royal Marble.
Hit the top button in that lift and you'll alight at the upper deck. Behind the large wheelhouse the captain's cabin allows instant access while off duty. A separate communications station and a full-height cupboard contains the guts of the electronics. Racked out with complex media servers that allow movies and music to be streamed to any stateroom screen via iPad controllers, it also stocks navigation servers, satellite AV and communication controllers, and high-speed Wi-Fi routers for the entire superyacht. With kit from the likes of Savant, Kaleidescape and Sonos, a quarter of a million dollars' worth of equipment is in this cupboard.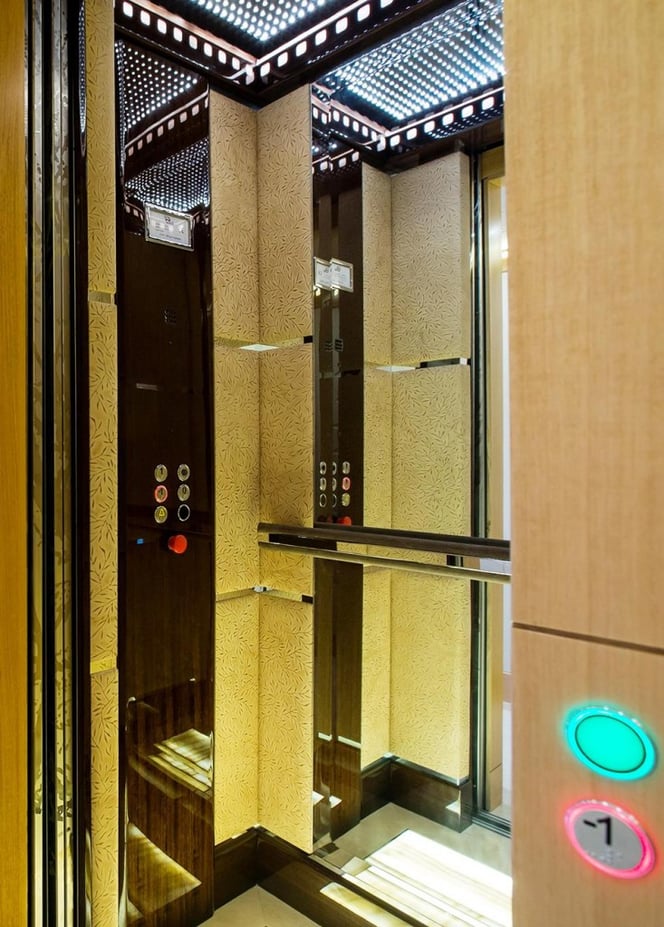 Majesty 155 lift that connects the decks
A more informal second saloon, with huge windows offering unparalleled panoramic views, occupies the rear section of this level. Complete with a bar, it offers a great entertaining area and opens out on to the spa pool deck directly above the aft cockpit.
As expansive as the internal layout is, this isn't a yacht for hiding away in. Twin stairways from the deeply bulwarked side decks take you up to the palatial fly-bridge. A semi-circular cutaway at the trailing edge allows sunlight to pour down into the spa pool below. Or if you prefer your pouring a little more fluid, a waterfall is built into the lip, cascading from the sundeck into the Jacuzzi situated on the upper deck. Protected by a louvred hardtop, two large dinettes are served by twin fully equipped galley areas. But perhaps the most social area is ahead. A raised circular plinth is encircled by three large, curved sofas and topped in teak. But that teak table hides a secret: lift it off to discover an exquisite illuminated fountain – a terrific centrepiece.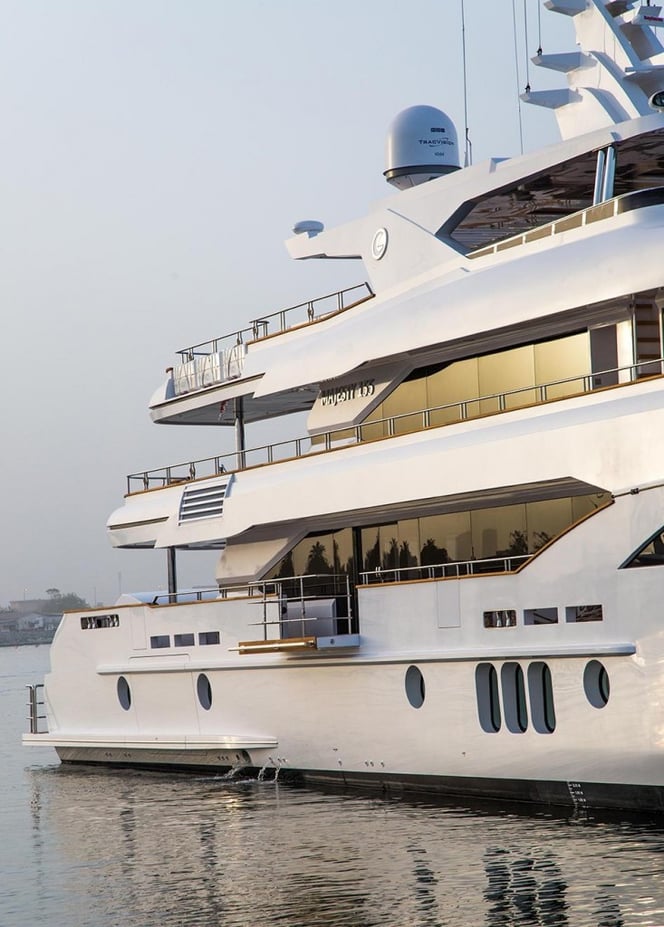 Majesty 155 side balcony
The Majesty 155 is all about choice. So complementing this and the shaded lower area is a further cockpit. And we're not done yet. Perhaps my favourite area on the whole superyacht is also one of the smallest. Right back aft – behind an air-conditioned engine room so big it feels like there must be something missing in there, and behind a side-access garage large enough to house a 6.2 metre Williams jet RIB and a pair of three-seater jet skis – lies the beach club.
Formed by raising a massive section of the transom (that doubles as a shade in its raised position) this is an utterly idyllic waterside retreat that really puts you in touch with the reason you're out here: the ocean. An extended transformer section drops on hydraulics into the sea if you're feeling athletic enough to swim or scuba dive. Or invite your most favoured guests, have the captain turn on the underwater lights surrounding the yacht, and let the sea life come to you.
Designed and built in the UAE, the Majesty 155 combines refined elegance and class with a unmatched hospitality. Flashes of her geographical heritage can be found in the fountain on the fly-bridge or the complex mosaics around the spa pool. But interestingly, where you feel the influence most, is in the cost. Without a famous European brand behind the price, this is a yacht that is usefully less expensive than similarly sized boats from heavyweight names. Hospitable, indeed.
For the original article, CLICK HERE.
Here's the article in the September issue of Boat International:
[embedPDF source="http://blog.gulfcraftinc.com/wp-content/uploads/2015/09/Majesty-155-Boat-International.pdf"]