Singapore, 17 April 2016: Gulf Craft continues to put the UAE on the map in the manufacturing sector, having most recently received a prestigious award in Asia for its flagship superyacht – the Majesty 155.
Named 'Best Asian Built Yacht' at this year's edition of the Asia Boating Awards, the Majesty 155 – the largest semi-production superyacht built in the UAE – was recognized for her ability to combine unparalleled seagoing performance with timeless luxury. This marks Gulf Craft's 5th consecutive win in South East Asia, demonstrating the company's enduring legacy of being one of the most highly celebrated builders in the region.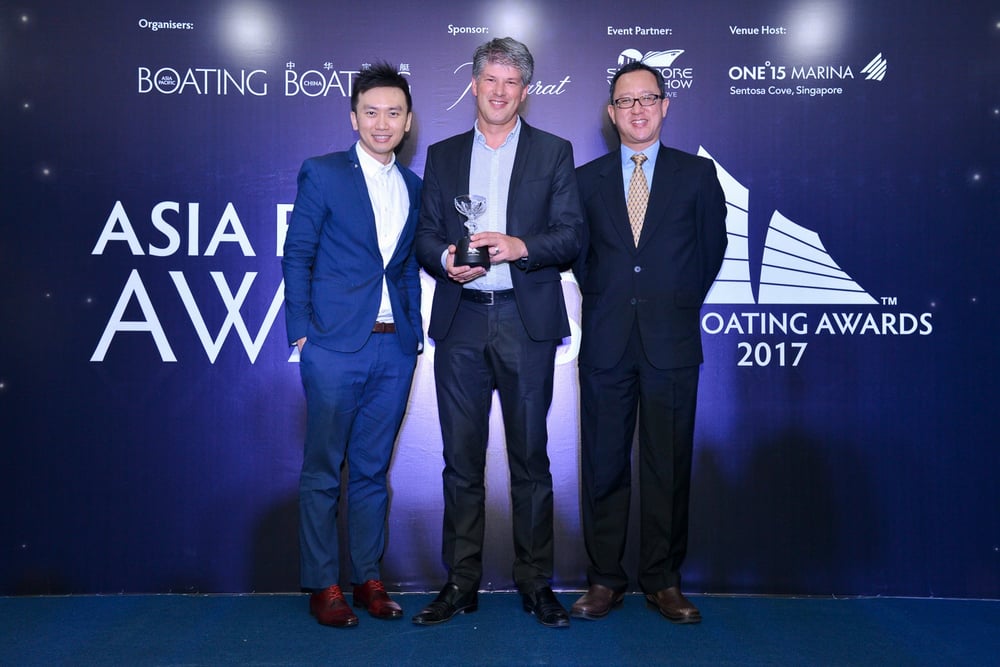 Gulf Craft CEO, Erwin Bamps, receives the award for the Majesty 155 at the Asia Boating Awards
Gulf Craft has long been a passionate advocate of the 'Made-in-UAE' brand, and a fervent supporter of nationwide efforts to boost the country's domestic production capabilities. And with the Government squarely focused on realizing its goal of having the manufacturing sector contribute to 25% of the nation's GDP by 2025, Gulf Craft's CEO, Erwin Bamps, says the country's flourishing industrial developments holds infinite potential.
"Our own journey as a builder is an example of the limitless possibilities that await the UAE's home-made innovations," said Bamps. "Thirty-five years ago, we started by building fishing boats and family cruisers. Today, we are a leading superyacht shipyard, export more than 70% of our products abroad, and are now preparing to venture into megayacht territory. This growth was made possible through careful strategizing, continuous investments in research and development, forging new partnerships, and working endlessly to enhance our existing operations. We believe that this success is not only possible for the leisure marine industry, but across all industries."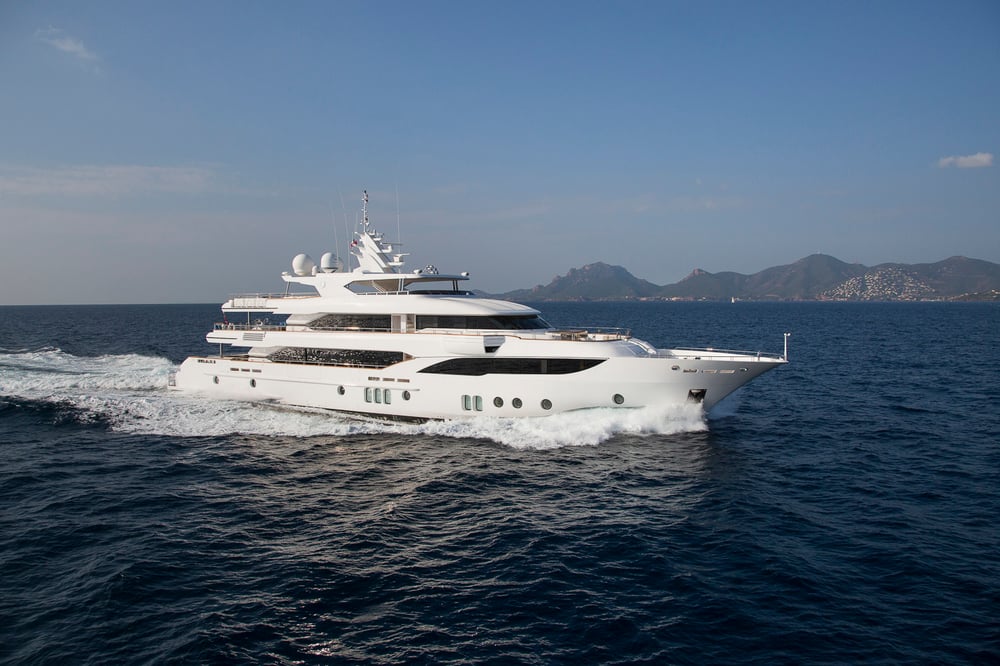 Majesty 155 superyacht, 'Best Asian Built Yacht'
The annual Asia Boating Awards recognize the best of the maritime industry in Asia and internationally, serving as a benchmark for the Asia-Pacific region, where Gulf Craft has been operational for more than 15 years.
Likened to a 'floating palace' by her owners, the Majesty 155 is Gulf Craft's first displacement superyacht and merges powerful engineering with premium craftsmanship and lavish interiors to deliver a five-star cruising experience. Powered by twin 2,011 hp MTU engines, the Majesty 155 provides exceptional fuel efficiency and an ability to cover a range of over 4,200nm at a speed of 10 knots.
Gulf Craft's impressive track-record with the Asia Boating Awards includes scooping the 'Best Asian Motor Yacht Builder' award in 2016, the 'Best Asian Built Yacht' award for the Majesty 122 in 2015, the 'Best Asian Yacht Builder' award (in the 15m to 24m category) in 2014, and the 'Best Asian Built Yacht' award in 2013 for the second-largest superyacht in its fleet, the Majesty 135.