Sunday, 20 September 2015, By Charl van Rooy- Unveiled during a royalty-attended ceremony in June at Gulf Craft's facility in the UAE, the Majesty 155 became the largest yacht to emerge from the sheds of the Middle Eastern ship builder yet.
Well established by now, the decision to move into a larger size range came as a natural step for Gulf Craft following on the success of their existing Majesty Superyacht line-up. The new 155 model is designed to not just to push the boundaries in what is possible in this size range, but to also prove what exactly Gulf Craft is capable of.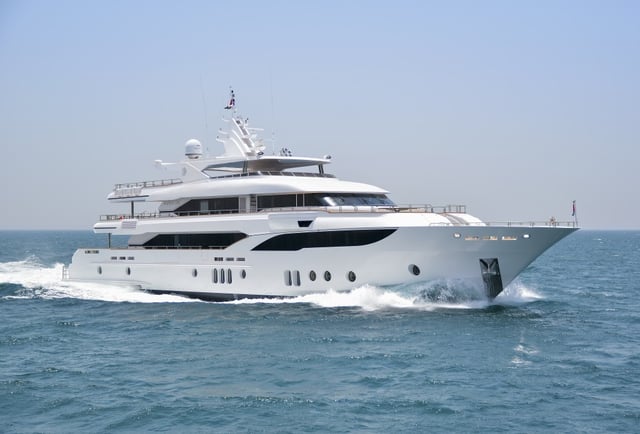 Few yacht builders succeed in designing a vessel that appears to be much larger than what her overall length actually suggests. Gulf Craft managed to do so by creating an elegant and flowing exterior that builds on the established Majesty Yachts' image. From her catching mast shape down to the sweeping curves in the hull design by Yankee Delta Studio, the 155 exudes power, performance and no small amount of elegance while underway or at anchor.
Starting from the spacious sundeck, it soon becomes clear this area is set up with socialising and ultimate relaxation in mind. Several meeting areas, each with their own purpose, have been laid out in such a way for guests to easily move around the deck space, without ever feeling overly separated. A circular meeting area has been set up forward providing excellent views ahead, with a bar and two dining/lounge areas aft. These spaces are all covered underneath a louvre-style deckhead structure.
The very aft section of this deck is kept exposed, fit for those looking to spend time in the sun. A balcony-style cut-out, a feature also found on the Majesty 135, looks down upon a beautiful mosaic lined Jacuzzi below on bridge deck.
With plentiful space provided by the 9.6m beam, the Majesty 155 can afford innovative additions such as hidden internal deck staircases; a feature commonly found on much larger yachts. These make access to the various decks far more convenient for crew, who can do so without disturbing guests relaxing in the aft decks.
On main deck below, wide side decks are further extended with a fold-down balcony on the starboard side, leading directly into the main salon inside. At anchor the large transom door can be opened to reveal a spacious beach club at water level. The door provides much needed shade to the interior space, with a square full beam swim platform is reserved for sunbathing and relaxing in between the water sports fun. A hydraulic swim ladder drops down to allow for easy access in and out of the water, perfect for scuba diving and snorkeling adventures.
Forward of this is where the yacht's 6.2m Williams tender and two jet ski's are housed. These are launched laterally through a side opening garage door.
CLICK HERE for the full article.